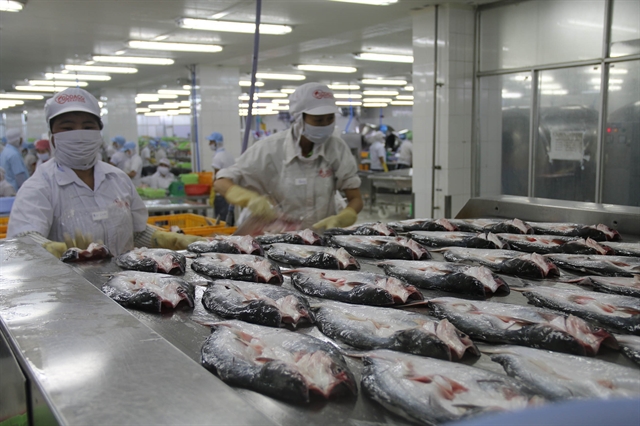 Workers process catfish for export at Gò Đàng Joint Stock Company in Mỹ Tho Industrial Park in Tiền Giang. Exporters will need to focus on quality when it comes to new FTAs. VNA/VNS Photo Minh Trí
HÀ NỘI — Participation in new generation FTAs opens new cooperation opportunities for businesses in Viet Nam's agricultural sector, but challenges remain.
Đỗ Thắng Hải, deputy minister of Industry and Trade, said at the 4th National Farmers Forum held in Hà Nội on Friday that two new-generation FTAs, signed in 2018 and 2019, would open up export markets for agriculture, forestry and fisheries products.
The two agreements are the Comprehensive and Progress Agreement on Trans-Pacific Partnership (CPTPP) and the EU-Vietnam Free Trade Agreement (EVFTA).
The two deals are expected to open up great opportunities for Vietnamese farm produce to access 37 markets with a combined population of over 1 billion.
Through the CPTPP, Việt Nam could establish bilateral free trade relations with countries such as Canada, Chile, Mexico and Peru, for the first time, he said.
Most of Viet Nam's major export agricultural products, including fish, shrimp, fresh and processed vegetables, are entitled to zero per cent tariffs after the agreement comes into effect or after three to five years.
"This creates an opportunity for Vietnamese businesses to increase exports as well as contribute to diversifying export markets for agro- forestry and fishery products which are our strengths," Hải said.
The EVFTA also gradually reduces import tariffs on Việt Nam's farm exports to zero per cent over a short period of time, with 99.7 per cent of Vietnamese agricultural exports eligible for the zero per cent tariff after seven years.
"This is the highest level of commitment that a partner offers us among the FTAs Việt Nam has signed."
"It is particularly significant because the EU has been one of the top two export markets of Việt Nam for years, with export turnover of US$42 billion and bilateral trade turnover of nearly $56 billion in 2018," Hải said.
Therefore, it was necessary to provide comprehensive information relating to the CPTPP and EVFTA agreements to the business community engaged in the agricultural sector so they could expand their markets, he said.
Trần Công Thắng, director of the Institute for Policy and Strategy for Agriculture and Rural Development, said tariff reductions offered opportunities for Vietnamese agricultural firms to increase exports to CPTPP markets.
However, he said, Vietnamese farmers and agricultural products would also face fierce competition domestically.
It was a must for Vietnamese enterprises to strictly follow the requirements set by the bloc in order to boost exports to CPTPP and EVFTA member countries and increase competitiveness, Thắng said.
Nguyễn Xuân Định, Vice Chairman of the Việt Nam Farmers' Union said, although many policies had been issued to support farmers in production and marketing, the country's farm products still have low added value due to obstacles such as food safety and hygiene.
He said he hoped that through discussions, the forum would find solutions for domestic farm produce exports.
Besides opportunities, the FTAs would also create challenges for Việt Nam's agricultural sector, he said.
Định voiced his concern about maintaining the output and quality of agricultural products to serve export markets, and expanding the domestic market given the trade war between the US and China and the rise in protectionism.
Participants at the forum also discussed obstacles that Việt Nam's agricultural exports face in CPTPP and EVFTA markets.
They said technical barriers relating to food safety and quarantine, managerial and technological levels are preventing Vietnamese farm productions from entering choosy markets like the European Union and Japan.
According to latest data from the Ministry of Agriculture and Rural Development, the export value of agro-forestry-fishery products in the first nine months reached US$30.02 billion, a year-on-year rise of 2.7 per cent.
Items with export turnover of more than US$2 billion included wood and timber products, coffee, rice, cashew nuts, fruit and vegetables, and shrimp. — VNS