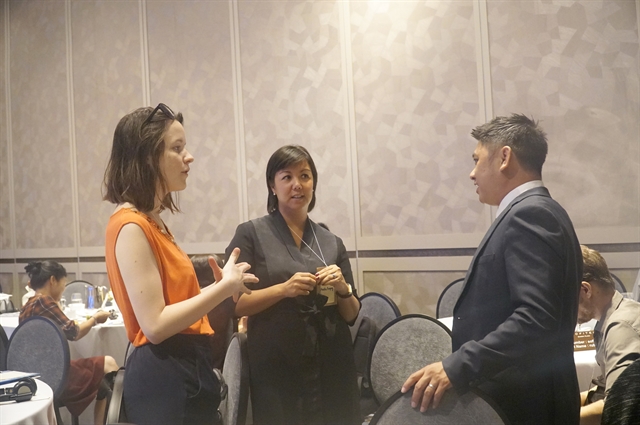 Delegates on the sidelines of the Inclusive Business Forum held in HCM City on October 11. — VNS Photo
HCM CITY — Embracing diversity and fostering inclusion is critical to business success in the 21st century, the Inclusive Business Forum heard in HCM City on October 11.
It does not just make social sense to promote diversity and inclusion, but also business sense, delegates said.
Inclusive businesses go beyond philanthropy by integrating diversity and inclusion into their operations, combating discrimination in both the workplace and society, while continuing to grow the business, they pointed out.
In his opening remarks, Đào Xuân Lai, UNDP's Assistant Resident Representative in Việt Nam, said: "Diversity and inclusion bring about new market niches, innovation and productivity for businesses."
A McKinsey study estimated that companies in the top quartile for gender diversity are 15 per cent more likely to have financial returns above their respective national industry medians, he said.
"Diversity triggers new ideas and innovations. With a diverse work staff, from diverse backgrounds, sexual orientations and gender identities, and people with disabilities, businesses can tap into a pool of new talents and innovative ideas to keep up with rapidly changing markets.
"Embracing diversity and inclusion will also help businesses open up and get access to new products and service lines in the market."
There is a growth of diversity and inclusion globally, he said.
"Many Vietnamese businesses are already greening their investments, generating decent jobs, creating opportunities to reduce inequalities in the workforce and challenging stereotypes of persons with disabilities and LGBTI (lesbian, gay, bisexual, transgender and intersex)."
But the fact is that there are many challenges to creating a culture of inclusion in business.
A 2016 study by iSEE and UNDP found that on average 30 per cent of LGBTI respondents in Việt Nam reported being denied employment based on sexual orientation and gender identity.
Futhermore, in the 2018 report, Ending Stigma, 66 per cent of persons with disabilities said they had never even attended a job interview, and of those who had, 54 per cent said they had been denied a job because of their disability.
"For Việt Nam's continued economic growth, it is crucial to fully embrace this new way of doing business, which will also help and reduce inequalities for vulnerable groups," Lai said.
Warrick Cleine, chairman and CEO of KPMG Việt Nam and Cambodia, said Việt Nam could only meet its potential if everyone is part of the story.
"This means businesses must create a positive, inclusive and diverse experience. At KPMG, this means a happy, healthy and safe workplace, where everyone can bring their whole selves to work. This is great for Việt Nam, and fantastic for business".
Imagtor, which won the UNDP SDG Challenge in 2017 and received equity-free seed funding and a business incubation programme, explained how it championed diversity and inclusion.
Cao Thi Ngoc Dung, chairperson of Phú Nhuận Jewelry JSC, spoke about her company's marketing campaigns using same sex couples to model their jewellery.
This messaging helps challenge stereotypes and combat discrimination against LGBTI people, while PNJ could broaden its consumer base to niche market segments, she said.
She also emphasised the need to integrate customers' and society's benefits with the company's interests.
Francesco Trần Văn Liêng, president of the Việt Nam Cacao Joint Stock Corporation, said: "Vietnamcacao focuses on enhancing social responsibility by keeping pace with industry 4.0 to help disabled and [other] less competitive [workers] to integrate into the working environment and contribute to the business growth thereby redistributing benefits to society."
The forum was part of the Én Xanh (Blue Swallows) programme organised by the Centre for Social Initiatives Promotion, UNDP, the Việt Nam Chamber of Commerce and Industry, and the Việt Nam Union of Science and Technology Associations. — VNS