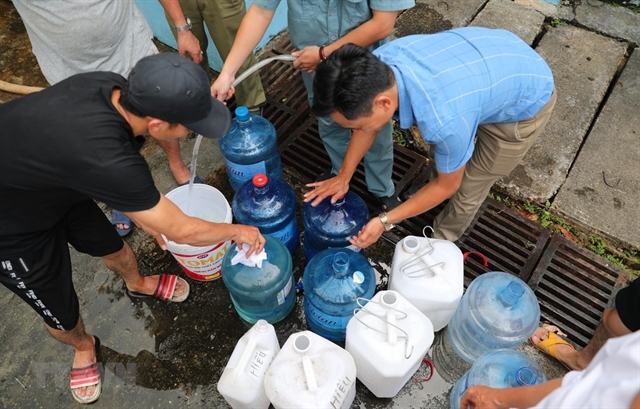 HÀ NỘI — Some households in Hà Nội's Thanh Xuân District have clean water again, municipal authorities announced on Thursday evening, hours after police confirmed an investigation into the ongoing water crisis that has affected some 700,000 people.
In a notice released by the Hà Nội People's Committee, another water provider in the capital city – the Hà Nội Clean Water Ltd. Co – has directed its water supply from the Đuống River Plant and other underground water facilities to eight wards affected by the crisis.
They included Đại Kim, Định Công, Thịnh Liệt, Hoàng Liệt, Thanh Xuân Nam, Kim Giang and part of Khương Đình ward. Households located along Nguyễn Trãi Road, starting from the Chiến Thắng Crossroad to Nguyễn Trãi Crossroad, will also have clean water again following days of drought.
The total amount of the water provided stands at about 60,000 cubic metres a day and night.
People in those areas can now use tap water for drinking, cooking and other purposes, the city People's Committee said.
The Hà Nội Clean Water company will continue sending free water tank trucks to other affected areas on demand.
Meanwhile, police have launched an investigation into the oil dumping which is believed to have caused the water crisis in the capital, Hòa Bình authorities told reporters on Thursday afternoon.
Waste oil was found illegally discarded in a creek in the Phú Minh Commune in Kỳ Sơn District, which then spread into the adjacent Trầm Stream flowing directly into the Đầm Bài reservoir. The reservoir is used to store water for the Đà River water plant.
According to Hòa Bình People's Committee, Kỳ Sơn District police would look into the case as an environmental pollution crime.
The biggest water crisis Hà Nội has witnessed in decades began on October 10 when residents in southwestern districts of the capital city detected a strange, irritating smell like melted plastic or oil in their tap water.
Despite repeated assurances from the Đà River water plant that the water met safety standards, it was revealed on Tuesday that tests found the amount of styrene in the tap water higher than allowed.
Hà Nội authorities warned residents in the affected areas to refrain from drinking and cooking with tap water which was allegedly polluted with oil dumped nearby the water source for the plant.
More than a week after the crisis first started, thousands of Hanoians were still living without clean water. They had to rely on bottled water and water tank trucks which brought clean water from other plants.
Nam Từ Liêm and Thanh Xuân districts were affected the worst as the Đà River water plant is the main water provider in the areas. Parts of Bắc Từ Liêm, Cầu Giấy, Hoàng Mai, Hà Đông and Thanh Trì districts have also been affected. — VNS