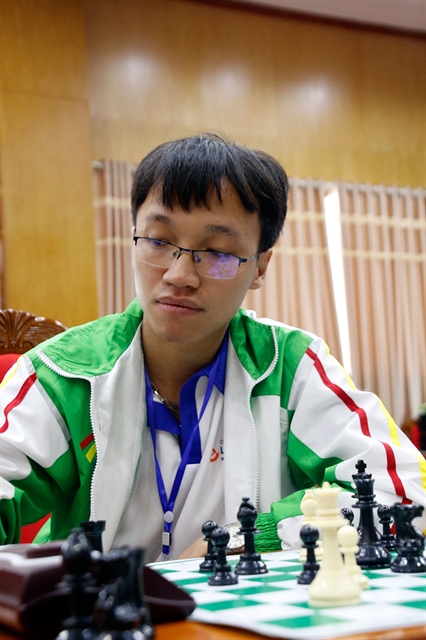 GM Nguyễn Ngọc Trường Sơn wins the National Chess Championship's rapid event in May. Photo http://vietnamchess.vn/
HÀ NỘI — It has been missing from the last three Southeast Asian Games, but come November, chess will be checking in.
And Việt Nam's masters will be going for gold in the Philippines.
The event will see five rapid and blitz sections for men and women with local players pitting their wits against some of the best players in the region.
"Ten best athletes, six male and four female, will make up the national team," said Nguyễn Minh Thắng, head of the National Sports Administration's Chess Department.
"We plan to win two gold medals in this year tournament. And I believe it is in our reach.
"Việt Nam is the strongest team in the region. Considering the level of the players we could even win all four events.
"However there are also different elements that could affect the final result. Then, a target two is suitable."
Thắng believes former world blitz champion Lê Quang Liêm is Việt Nam's best hope on the men's side while either Phạm Lê Thảo Nguyên or Hoàng Thị Bảo Trâm are aiming for glory in the women's section.
Liêm is the world No 35 in standard, No 25 in rapid and No 55 in blitz categories. He places ninth in Asia and No 1 in Southeast Asia and of course in Việt Nam.
His teammate GM Nguyễn Ngọc Trường Sơn is also a title favourite.
Sơn is not in the world top 100 due to his absence at international tournaments but he has always shown bags of potential.
Sơn is the first world champion of Việt Nam. Winning the U10 class in 2000. He is also the youngest Vietnamese master to take the FIDE's title at the age of 14 in 2004.
Two other rising stars are Nguyễn Anh Khôi and Lê Tuấn Minh.
Khôi just recently became Việt Nam's 11th Grandmaster last month. The 17-year-old won the world championships twice when he was 10 in 2012 and 12 two years later.
Minh, 23, is said to be a player with break-through tactics that coaches believe allow to play both rapid and blitz.
Minh overcome national powerhouses to win the national title in both categories in 2018 before finished second in rapid and third in blitz this year.
On the women's side, all four players are in top 100 in the world with Nguyên is No 46 in blitz, Võ Thị Kim Phụng No 56, Trâm No 64 and Nguyễn Thị Mai Hưng is No 83 in rapid.
Đào Thiên Hải and Nguyễn Huỳnh Minh Huy will play Southeast Asian chess which may look the same but has different moves and rules than chess.
"In the Philippines, each player could register one category. Therefore we must send players to suitable classes," said coach Lâm Minh Châu.
"If players maintain their peak form we would definitely complete the task," he said.
"The organisers limited the number of categories this year which will increase the competitiveness of the game," said GM Sơn.
"We have to play carefully because just dropping one or two games would waste our opportunity to win," he said.
Players will have chances to sharpen their skills before SEA Games.
GMs Liêm and Sơn are competing at the FIDE Grand Swiss 2019 in England till October 22.
They will join the national team for the Southeast Asian championship on October 24-November 4.
Then, players will return to wear their clubs' uniforms to take part in the National Strong Masters Championship in Quảng Ninh Province from November 14-24.
At the games, chess will take place at the Subic Bay Travelers Hotel from December 1-8. VNS