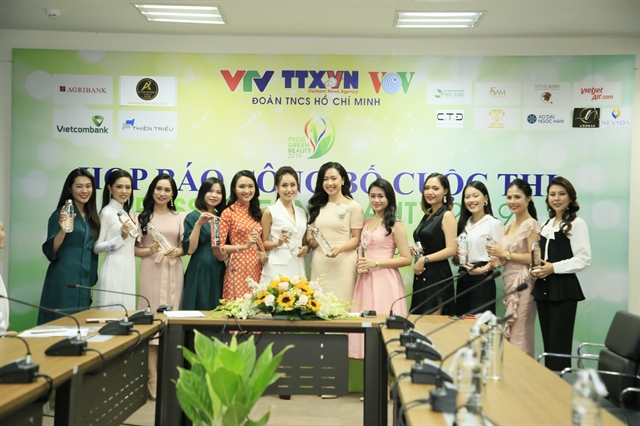 Some finalists of the contest send a message of using personal bottle to reduce plastic waste at the press conference on October 17. Photo courtesy of the organiser
HÀ NỘI — A contest to honour the beauty and talent of female journalists and MCs has been announced in Hà Nội.
The Press Green Beauty 2019 pageant is organised by the Việt Nam Television (VTV), Vietnam News Agency (VNA), and Voice of Việt Nam (VOV) to mark Vietnamese Women's Day (October 20).
"The beauty contest will tighten solidarity among media agencies and inspire creativity in the workplace," said journalist Vũ Thị Thanh Tâm from VOV, member of the organising board. "The theme for this year's event is environmental protection and the role and actions of journalists in environment protection."
"This is a meaningful cultural activity to honour the role and capacity of female journalists in tackling urgent problems of society," Tâm said.
The contest was launched on October 1 and the judges have selected 36 finalists. Each submitted a video about environmental protection, particularly dealing with plastic waste. The producers of the best video will win the title Miss Environment.
The contestants will also compete in áo dài (traditional long dress), evening gown, and Q&A segments.
Apart from the top prize for Miss Press Green Beauty including a crown and US$1,700 in cash, there are some prizes for Miss Áo Dài, Miss Talent and Miss Audience's Choice.
The final round and awards ceremony will take place on October 19 at the VTV. Various artists will perform at the programme including singers Đông Hùng and Thu Thủy.
The judges includes People's Artist Lê Khanh, designer Đức Hùng and first runner-up of Miss Việt Nam 2012 Dương Tú Anh. — VNS