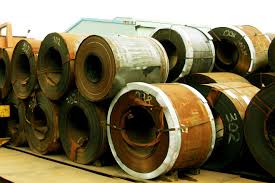 Hot rolled steel coil of Hữu Liên Á Châu JSC. The Ministry of Finance scrapped its plan of increasing MFN tax rate to 5 per cent on hot rolled steel coil products. — Photo huulienasia.com.vn
HÀ NỘI – The Ministry of Finance has postponed its plan of increasing the most-favoured nation (MFN) tariff on imported hot rolled steel coil (HRC) from zero per cent to 5 per cent after collecting opinions from businesses and experts.
In its latest proposal for revision of Decree No 125/2017/NĐ-CP on export duty schedule, preferential import duty schedule and list of commodities and their flat tax rates, compound tax rates and outside tariff quota rates, the ministry has suggested not increasing the MFN tariff on HRC products.
According to the ministry, the previous plan was derived from the concern that the worsening of US-China trade tensions could lead to a massive influx of cheap Chinese steel to the Vietnamese market, negatively affecting local steel manufacturers.
Every year, Việt Nam imports more than eight million tonnes of hot rolled steel coil for domestic production, of which Chinese products account for 40 per cent.
The ministry also estimated the increase in MFN tax rate from zero per cent to 5 per cent would bring an additional VNĐ3.15 trillion (US$135.3 million) to the State budget. But the actual number could be lower since businesses would seek imports from other countries with preferential tax rates of zero per cent such as South Korea and ASEAN countries.
In its response to the ministry's previous plan, the Việt Nam Steel Association (VSA) suggested not increasing the tax as it would not limit Chinese steel import as China is part of the free trade agreement with ASEAN countries. Under this agreement, China enjoys a zero per cent preferential import duty on HRC into Việt Nam.
Meanwhile, the tax hike would limit supply from other markets which do not have agreements with Việt Nam such as Taiwan, Australia and India.
Hot rolled steel coil is a raw material used to produce cold rolled steel and other pre-painted galvanized steel sheets, and the increase in tax would make Vietnamese steel products more expensive, diminishing the competitiveness of local manufacturers.
"If tax is raised by 5 per cent, the average price of raw materials in Việt Nam will be 8-9 per cent higher than the world price, pushing up the price of finished products," VSA said in its document.
The Ministry of Industry and Trade has also proposed not to hike the MFN tax rate as the HRC production of domestic manufacturers has not met demand and export.
VSA's statistics showed that demand for hot rolled steel in Việt Nam is currently about 10-11 million tonnes per year but local production capacity is only four million per year, meeting 30-40 per cent of the consumption.
The figure is expected to increase to 60-70 per cent when the Hòa Phát Dung Quất iron and steel production complex and Formosa Hà Tĩnh Corp's additional mills start operation next year.
VSA President Nghiêm Xuân Đa welcomed the ministry's latest decision of delaying its tax increase proposal.
"All members [of the association] are excited with the ministry's decision, especially in the context of rising international trade tensions. We hope that the Government will continue supporting domestic manufacturers and the common interests of consumers, ensuring the sustainable development of the steel industry," he told Người Lao Động newspaper. – VNS