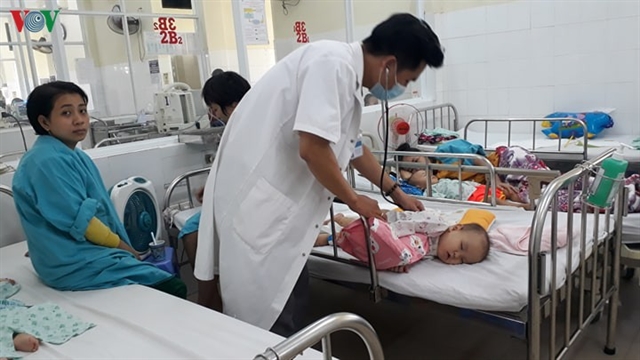 HFM patients are treated at the Tropical Medicine Department of Đà Nẵng Hospital for Woman and Children. vov.vn photo
ĐÀ NẴNG — The central city of Đà Nẵng is implementing preventive measures to control the spread of hand-foot-mouth disease as the number of HFM infections has increased steadily in the region.
The Tropical Medicine Department of Đà Nẵng Hospital for Woman and Children recently received between 70 to 80 HFM cases for treatment each day.
However, Dr Nguyễn Hải Thịnh, Deputy Head of the Tropical Medicine Department, said there have been no serious cases with fatal complications.
"Currently, the number of hospital beds in the department still ensures one child per bed," he said.
Nguyễn Tam Lãm, Head of the Infectious Diseases Prevention and Control Centre, at the city Department of Health, said anti-epidemic teams were set up with qualified human resources, equipment and chemicals.
"District-level health centres are asked to coordinate with the education and training department, parents and schools to strictly examine food safety," he said.
Since the beginning of this year, the city recorded 1,300 cases of HFM disease, an increase of 200 cases over the same period last year.
Nguyễn Thị Thu Mơ, mother of an 8-year-old patient who was treated as outpatient in the Tropical Medicine Ward, said her daughter was hospitalised five days ago with fever and rashes.
"I kept her at home for two days but the fever didn't stop, so we took her to hospital," Mơ said. "Now the rash is okay, but she still has a fever".
Dr Thịnh said children infected with HFM disease often experience fever, loss of appetite, fatigue, sore throat, cough, abdominal pain and a rash on the skin.
"So when parents detect these signs, they need to take the children to medical facilities immediately," Thịnh said.
Each year in Đà Nẵng, there are two peaks of HFM disease: from March to May and from September to October.
The reoccurrence of virus Enterovirus 71 (EV71), a common cause of life-threatening illnesses for HFM patients, has made the disease dangerous and could easily spread into an outbreak. — VNS