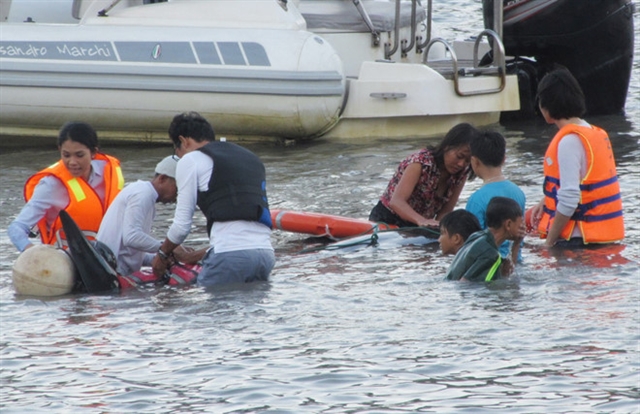 The stranded whale died on Monday despite efforts from local residents who tried repeatedly to return the animal to the sea. — Photo thanhnien.vn
NINH THUẬN — A whale died on Monday in Vĩnh Hy Gulf of the south-central province of Ninh Thuận, despite the efforts of local residents and authorities to save the animal over the past three days.
Party Secretary of Vĩnh Hy Village in Ninh Hải District, Nguyễn Văn Chương, said the whale, which was about three metres long and more than 250kg in weight, was found drifting ashore in the gulf on Friday morning.
The whale likely got too close to shore while hunting for fish and was stranded in the shallow waters after the tides ebbed, Chương said.
The whale appeared exhausted. Dozens of people worked together to keep the whale alive, concerned it might not survive under the scorching sun.
Despite repeated attempts to bring the whale back into the deeper water areas of the gulf, it kept swimming back to near the shore.
The whale became weak and died on Monday morning. Local residents have contributed money to organise a funeral for the whale and bury it in accordance with local customs.
Whales are believed to bring luck, peace and prosperity to fishermen so they are often worshipped in fishing communities in southern Việt Nam.
Whale bodies that wash ashore are usually buried in temples in a solemn ceremony. — VNS