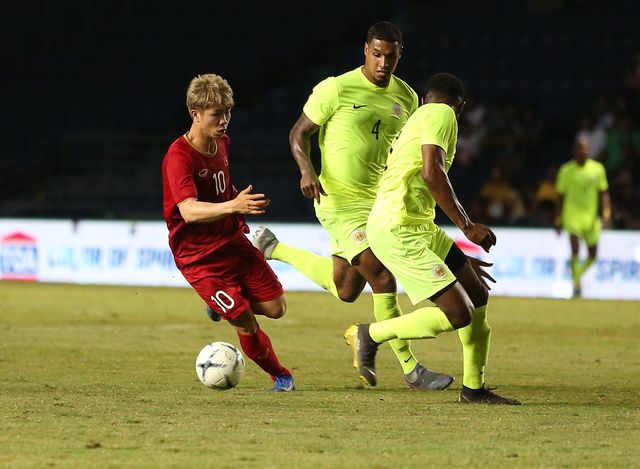 Striker Nguyễn Công Phượng (left) who is playing for Sint Truidense club in Belgium, was called up to the national team for a match against Thailand in the upcoming Asian zone's second qualifying round for the World Cup 2020. — Photo thethaovietnam.vn
HÀ NỘI — Việt Nam's head coach Park Hang-seo has sent a list of 26 players to the Asian Football Confederation (AFC) to prepare for the upcoming fixture between Việt Nam and Thailand on September 5 in the Asian zone's second qualifying round for the World Cup 2020.
The South Korean coach continued to put his belief in successful footballers. Most are from V.League 1 champions Hà Nội FC and Hoàng Anh Gia Lai (HAGL).
In attack, the coach called familiar strikers, including Nguyễn Văn Quyết and Ngân Văn Đại of Hà Nội FC, Nguyễn Anh Đức and Nguyễn Tiến Linh of Bình Dương, Nguyễn Công Phương of HAGL, and Hà Đức Chinh of Đà Nẵng. There is a new name from Quảng Ninh Coal – Hà Minh Tuấn – who scored seven goals in the ongoing national premier league. He is the league's current top scorer.
In midfield, Park named Nguyễn Quang Hải, Phạm Đức Huy and Đỗ Hùng Dũng of Hà Nội, Nguyễn Huy Hùng of Quảng Nam, Lương Xuân Trường and Nguyễn Tuấn Anh of HAGL.
Among them, Hải is the most prominent name. He scored two goals to help Hà Nội defeat Altyn Asyr of Turkmenistan 3-2 in the first leg of the Asian Football Confederation Cup Inter-Zone semi-finals on Tuesday.
The coach named favourites in the defence such as Nguyễn Trọng Hoàng and Bùi Tiến Dũng of Viettel, Quế Ngọc Hải of Đà Nẵng, Huỳnh Tấn Sinh of Quảng Nam, Đoàn Văn Hậu, Nguyễn Thành Chung and Đỗ Duy Mạnh of Hà Nội as well as Nguyễn Phong Hồng Duy and Vũ Văn Thanh of HAGL.
However, Hậu and Hoàng are unlikely to play as they haven't recovered from their injuries.
Meanwhile, Park only called two goalies including Đặng Văn Lâm and Trần Nguyên Mạnh.
Việt Nam will convene on August 25. Before leaving for Thailand for the World Cup event in September, Park will call the best 23 players for the game. — VNS