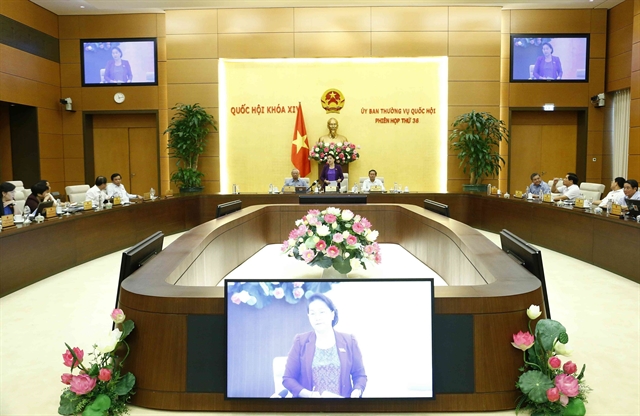 HÀ NỘI National Assembly deputies on Friday expressed concern over fire prevention and control efficiency as more than half of fire trucks are outdated.
The legislators spent the last day of this month's Standing Committee gathering to discuss fire prevention and control during 2014-18.
Lê Thị Nga, chairwoman of the NA's Judicial Committee, said during her supervision in Hải Phòng and Quảng Ninh, she found outdated trucks which were made in the 1970s. Some broke down while being driven.
Between 2014 and 2018, the State budget spent more than VNĐ8.3 trillion on fire prevention, control and rescue work.
According to Võ Trọng Việt, chairman of NA's Committee for Security and Defence, there are more than 2,200 fire trucks and 922 water pumping machines. The number of fire prevention devices and equipment does not meet real demand.
Vũ Hồng Thanh, chairman of the NA's Economic Committee, said the outdated equipment was not enough to extinguish flames at high buildings and densely-populated trade centres.
NA vice chairman Đỗ Bá Tỵ said ladders couldn't reach all floors. High buildings themselves must have fire prevention floors.
Hà Ngọc Chiến, chairman of NA's Council for Ethnic Affairs said the work of on-the-spot forces had reportedly been not effective. Only 26 per cent of fires were extinguished by forces mobilised on the spot.
Deputy Minister of Public Security Lê Quý Vương said most fires and explosions were caused by short circuits. Electronic equipment must be strictly managed and citizens must know how to deal with fires on the spot.
The legislators proposed taking technical measures to prevent fires and explosions and reduce damages.
The supervision team's inspection result showed there were more than 13,100 fires between July 2014 and July 2018, killing 346 people and injuring 823 others. Total property losses were estimated at more than VNĐ6.5 trillion.
After five days of meeting, the 36th session of NA Standing Committee wrapped up with the closing ceremony in the afternoon.
NA Chairwoman Nguyễn Thị Kim Ngân said the meeting fulfilled the agenda and urged Government ministers and leaders to address shortcomings of discussed issues.
The 37th session will take place next month, lasting for two months with heavy workload.
The chairwoman asked NA's committees to carefully prepare documents for the coming meeting to ensure quality and progress of the schedule. VNS