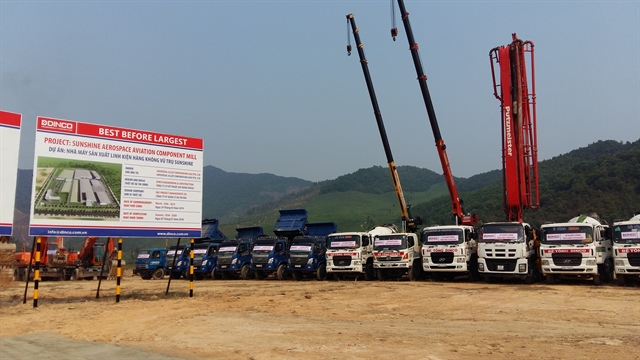 Universal Alloy Corporation from the US starts construction of its first aircraft components manufacturing plant in Đà Nẵng. The city has called for investment from the US in hi-tech and information technology parks. — VNS Photo Công Thành
ĐÀ NẴNG — Three Memorandums of Understanding (MoUs) on promoting investment, hi-tech manufacturing and expert training have been signed among the central city's Hi-tech Park and Information Technology Park, American partners Ai20X Silicon Valley and Meritronics technology joint-stock company based in Silicon Valley, the US.
The city's people's committee said in a statement that the MoUs were inked at the Đà Nẵng Business Roundtable on Monday.
It said the event aimed to introduce the city's investment environment and priority policies in calling for investment from the US.
Chairman of the city's people's committee, Huỳnh Đức Thơ said Đà Nẵng would offer the most favourable condition for investors from Silicon Valley and the US investing in health care, hi-tech industries, Artificial Intelligence (AI), education, real estate and automation at Đà Nẵng Hi-tech Park and IT Park.
Ai20X Silicon Valley, which is a premier business network focused on accelerating innovation to the global market and promoting global innovation start-ups in Silicon Valley and launching products in the US, and the managing board of Đà Nẵng Hi-tech Park agreed to co-operate in the fields of business incubation, technology transfer, expert training and high quality human resources and investment activities.
Ai20X Silicon Valley and Đà Nẵng's IT centralised joint-stock company will boost co-operation in offering construction services and developing the Đà Nẵng IT Park as an expanded Silicon Valley in Việt Nam.
Đà Nẵng's IT centralised JSC company and Meritronics technology JSC company agreed to establish the Trung Nam Meritronics Technology joint-stock in providing electronic manufacturing services at Đà Nẵng IT Park in the future.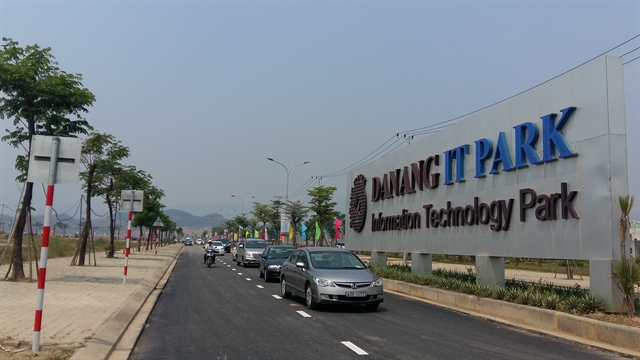 Đà Nẵng Hi-tech Park has finished its infrastructure. The city and partners from the US have agreed to develop the park as an expanded Silicon Valley in Đà Nẵng. — VNS Photo Công Thành
The central city said it will support investment procedures for construction of a robot manufacturing project by Alton Industry from the US in the city's Hi-tech Park.
According to the city's Investment Promotion Agency, the US was the third largest investor in Đà Nẵng with 63 foreign direct investment (FDI) projects worth US$595 million.
In May, Universal Alloy Corporation – a leading global manufacturer of aircraft components for aerospace companies – from the US started construction of its factory for aircraft components worth $170 million, at the city's Hi-Tech Park.
The plant will provide components for Boeing, Airbus, Embraer, Bombardier and their associated supply chains.
According to the Đà Nẵng Investment and Planning Department, the city has attracted a total of 679 foreign direct investment projects worth $2.9 billion and 322 domestic projects worth $4.2 billion.
The Hi-tech Park alone has 15 investment projects worth $390 million.
The 1,100-hectare high-tech park is designed as a hub for green and hi-tech investors from Japan, Thailand, the Republic of Korea, Singapore and the US.
The city has granted investment licences to eight projects worth $490 million and 11 other feasibility studies projects with an estimate of $3.5 billion in an investment promotion in March. VNS