HÀ NỘI — Vietnamese artists Phan Thị Thanh Mai won the first place prize and Ngô Duy Hiển took fourth at the recent 26th International Statue and Painting Exhibition in Seoul, South Korea.
Mai and Hiển were among six Vietnamese artists to bring 18 lacquer paintings to the exhibition. The Vietnamese works were popular with artists, collectors and curators at the exhibition.
Vietnamese artists received high praise from the K-Art International Exchange Association, the Artistic Jury, and the Executive Committee of the International Fine Arts Association.
For Mai's work with the theme of maternal love, she used her skill in traditional lacquer painting to portray the love of a mother holding her child in her arms.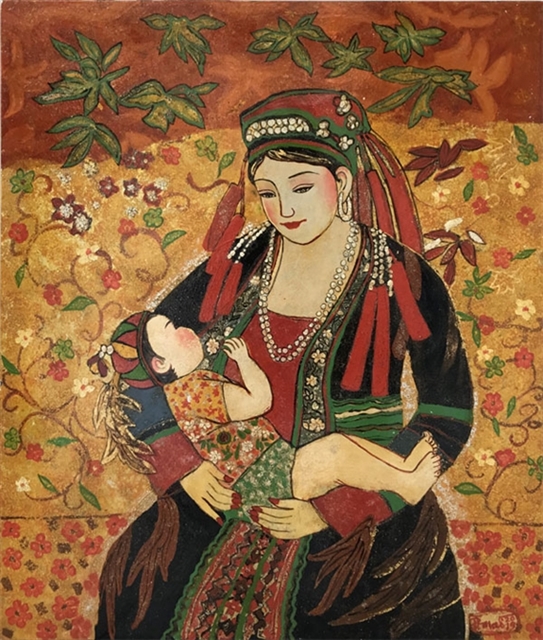 Lacquer painting by Phan Thị Thanh Mai. — Photo giaoducthoidai.vn
The exhibition was organised by the K-Art International Exchange Association to enhance understanding, co-operation and exchange in fine arts between Korean and international artists.
Thirteen countries participated including France, the US, Italy, Germany, China, Mongolia and Việt Nam.
The exhibition showcases more than 200 works with different materials such as oil on canvas, lacquer, silk, calligraphy, acrylic, watercolour and sculptures.
At a meeting to review the exhibition, the K-Art International Exchange Association's representative acknowledged the Vietnamese artists' contributions to the success of the exchange and to the co-operation between the Hà Nội-based UNESCO Centre for Fine Arts and the Korean association.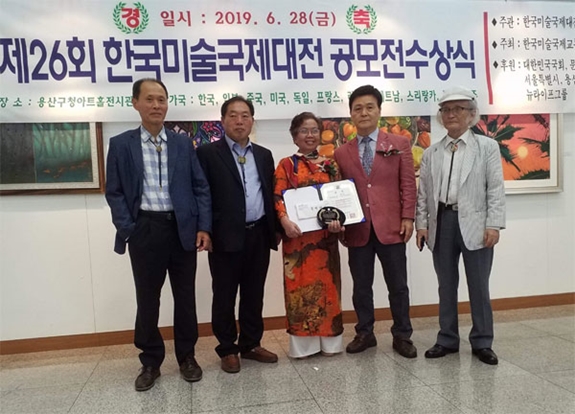 Vietnamese artist Phan Thị Thanh Mai (centre) and her Korean colleagues in Seoul. Photo giaoducthoidai.vn
Mai is the director of the UNESCO Centre for Fine Arts. She is also a member of the Việt Nam Fine Arts Association and has had group exhibitions and two solo exhibitions in 1988 and 2007. She has exhibited her work in China and Norway, and had 18 shows in France between 2001 and 2016. — VNS