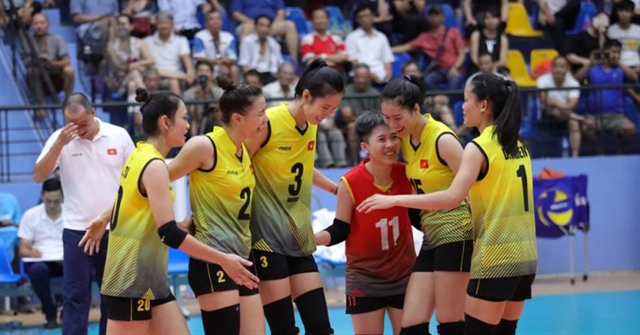 Vietnamese players celebrate a point at the Asian Women's U23 Volleyball Championship' match against Maldives. Việt Nam won 25-1, 25-2, 25-2. — Photo asianvolleyball.net
HÀ NỘI — Việt Nam achieved a record victory at the ongoing Asian Women's U23 Volleyball Championship in Hà Nội.
The hosts on Monday defeated underdogs Maldives with an unbelievable result of 25-1, 25-2, 25-2 in their last match of Pool A at the Gia Lâm District Gymnasium.
The Vietnamese team played without their strongest members including Trần Thị Thanh Thúy and Dương Thị Hên but they just needed 43 minutes to crush their rivals, achieving the biggest victory of the tournament as well as in the nation's history.
"We had an easy match against Maldives. We have never played a team with poor form like this before. But after this, we will have tough matches. I hope my team will do their best," said Hoàng Thị Kiều Trinh who played in the second and third sets.
It was the team's second win. They earlier beat New Zealand 25-12, 25-10, 25-19.
With two wins, Việt Nam top Pool A with six points, followed by New Zealand with three and Maldives who have yet won a single set in this championship.
In Pool B, North Korea lead after two wins. Thailand and Australia are second and third, respectively.
China proved their power to win Pool C with six points. Chinese Taipei finish second while India end third.
In Pool D, Kazakhstan rank first after three wins. Hong Kong, Macao and Sri Lanka are behind.
Following the competition format, top two teams from each pool advance to the quarter-finals. Việt Nam, New Zealand, China and Chinese Taipei are in Pool E, while North Korea, Thailand, Kazakhstan and Hong Kong China compete in Pool F.
Classification for ninth-13th places will see Maldives join India in Pool G, with Australia, Macao and Sri Lanka in Pool H.
"Our first two matches were not difficult, but I think a tough test will be the next two matches as we will take on Chinese Taipei and China," said Việt Nam head coach Nguyễn Tuấn Kiệt.
After a rest day on Tuesday, the competition resumes on Wednesday.
China will take on New Zealand and hosts Việt Nam play Chinese Taipei. North Korea will be against Hong Kong and Thailand versus Kazakhstan.
Maldives challenge India and Australia test Sri Lanka. — VNS