THỪA THIÊN HUẾ — The tomb of King Tự Đức's wife Lê Thị Thục Thuận, which was intentionally bulldozed by a construction company while clearing the site to build a parking lot in Thủy Xuân Ward, Huế City, will be rebuilt at the same site meeting all requirements by the Nguyễn Family Committee.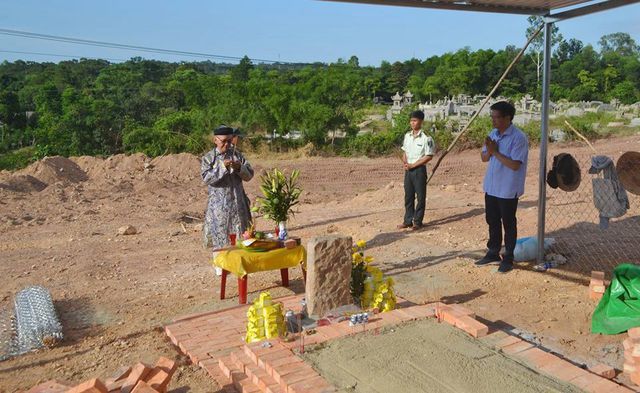 A contemporary tomb was built at the site of the orginal tomb of royal concubine Lê Thị Thục Thuận. — Photo dantri.vn
Chuỗi Giá Trị Ltd Company has agreed with the requirements of the committee. The company will adjust its plan to build the parking lot, excluding 200sq.m for the tomb that the company bulldozed.
The company will pay for all expenses while the model for the new mausoleum will be taken from the one introduced by the Huế Monuments Conservation Centre and plant trees surrounding the site.
The company also welcomed the committee to tightly follow the work at the site. It then will organise a press conference to publicly apologise to the committee and descendants of the king for the incident, which happened two years ago.
Earlier this month, the Culture and Sports Department of Thừa Thiên Huế Province has proposed two possible solutions to deal with the tomb to local authorities.
The first proposal involved keeping the tomb at its original location while the second one suggested moving the tomb to the nearby tomb site of another wife of the king named Học Phi.
King Tự Đức was born in 1829 as Nguyễn Phúc Hồng Nhậm. He was the fourth king of the Nguyễn Dynasty and had the longest reign (1847-1883). He had 103 wives but there were no sufficient reports on his wives. Though nobody was crowned Queen, the holder of the highest title was Royal Concubine. — VNS