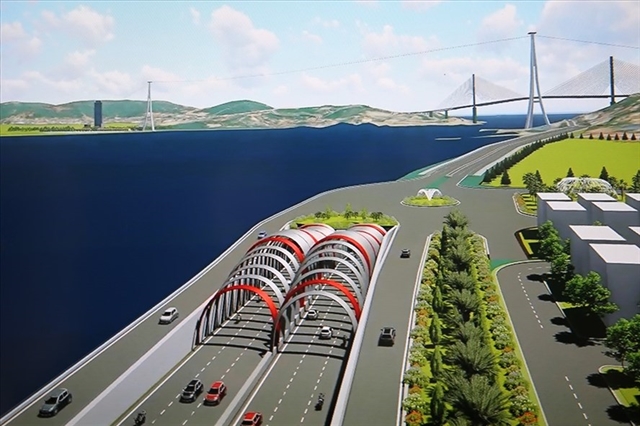 A mock-up design of the Cửa Lục tunnel project. — Photo baoquangninh.com.vn
QUẢNG NINH — The northern province of Quảng Ninh could build an undersea tunnel at Cửa Lục Bay by saving VNĐ2 trillion (US$86.2 million) annually from the provincial budget for four years.
Vũ Văn Hợp, office manager of the Quảng Ninh Province's National Assembly deputies, made the claim yesterday.
The total cost of the project is estimated at VNĐ9.7 trillion (US$417.6 million), all sourced from the provincial budget. The saved amount would be used on top of other provincial funds.
Earlier, at a conference at the beginning of this month, the Quảng Ninh People's Council approved a proposal of the provincial people's committee to use VNĐ2 trillion (US$86.2 million) of land hire fund from different investment projects in the province to build the undersea tunnel.
The tunnel will connect the Vườn Đào T-junction of Bãi Cháy Ward and the coastal roads of the Vinhomes urban area at Hạ Long City's Hòn Gai Ward.
It is expected to have six lanes for vehicles and a total length of 2,750 metres.
According to Quảng Ninh Province authorities, the construction of the tunnel will ease traffic congestion on Bãi Cháy Bridge.
At present, Bãi Cháy Bridge is the only way connecting Hòn Gai and Bãi Cháy districts of Hạ Long City. Vehicles are often hit by traffic jams, or interrupted in strong winds or typhoons.
The province expects the undersea tunnel will also ensure safety for residents during storm season and enhance tourism development.
The project has been submitted to Prime Minister Nguyễn Xuân Phúc. If approved, it will start this year and be completed in 2025. — VNS