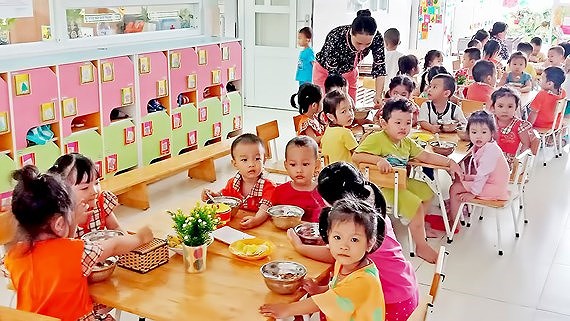 Preschools in export processing zones and industrial parks in HCM City need better support from the city and enterprises. — Photo sggp.org.vn
HCM CITY — Preschool education in export processing zones and industrial parks in HCM City must receive more support to meet workers' childcare needs, education officials said.
Nguyễn Bá Minh, head of the national preschool education department, visited the Tân Thuận Export Processing Zone Preschool in HCM City's District 7 on Wednesday to learn about childcare needs.
Trần Thị Tú Trinh, the school's principal, told him that additional childcare sessions from 4:30pm to 5:30pm from Monday to Friday had to be set up for workers' children.
Parents paid about half of the overtime session fees, while the remaining cost was supported by enterprises or taken from the state budget, she said.
Though preschool teachers' average income is nearly VNĐ9 million (USS$387) per month, other jobs such as cooks and security guards earn less than VNĐ4 million.
Authorities have asked the Ministry of Education and Training to develop more preferential policies to improve these workers' quality of life.
Phan Thị Cẩm Nhung, deputy chairman of Bình Chánh District People's Committee, said the district, faced with rapid urbanisation and ranked second in terms of total population in the city, must deal with social pressures, particularly in education.
Each year, the district added five to seven new schools at all levels, but that was not enough to keep with the population growth rate, she said.
A representative of the district's Education and Training Department said that public preschools were unable to admit all children, leading to a growth in the number of privately operated preschools.
In some densely populated communes such as Vĩnh Lộc A and Vĩnh Lộc B, private preschools outnumber public ones.
Authorities said that it was difficult to manage privately owned schools, which often do not have quality infrastructure or staff.
To solve the problem, the state should upgrade administrative systems and speed up construction of public schools inside export processing zones and industrial parks, officials said.
In addition, export processing zones and industrial parks should be required to support their workers with overtime-childcare expenses via clear policies.
Minh said the newly issued Education Law created a legal corridor for the future development of preschools in general as well as preschools in export processing zones and industrial parks.
In the time to come, the Ministry of Education and Training would receive feedback from authorities to draft policies to improve private preschools.
Under new policies, teachers and support staff would receive a better income and parents will be supported with lunch expenses and school fees. — VNS