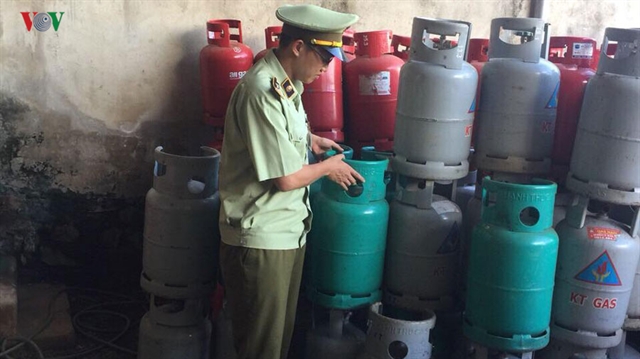 Empty gas cylinders labelling different trademarks are found in a private enterprise in the Central Highlands province of Đắk Lắk. — Photo vov.vn
ĐẮK LẮK – The Market Watchdog in Central Highlands Đắk Lắk Province has seized more than 1,900 empty gas cylinders, which was stored illegally in Buôn Hồ Town's An Lạc Ward.
On Tuesday, the market watch team No 4 conducted a raid on Thanh Tin Commerce and Service Enterprise in An Lạc Ward and found 1,919 empty gas cylinders weighing 12kg each.
The cylinders were labelled in many different branches, including All Gas, Phụng Gas, VT Gas and KT Gas.
The enterprise failed to show legal documents on the origin of the cylinders.
All the cylinders were seized. The case is under investigation. — VNS