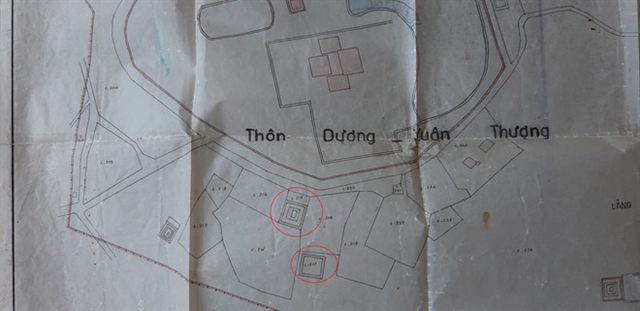 Two red circles on the map show the two tomb sites of the royal concubines Học Phi and Lê Thụy Thục Thuận. — Photo thanhnien.vn
THỪA THIÊN HUẾ — Information from a map featuring Tự Đức King's (1847-1883) tomb area, drawn during the revolutionary regime after 1975, will be used to assist efforts to rebuild the tomb of one of the wives of King Tự Đức of the Nguyễn Dynasty.
The map was discovered by researcher Hồ Vĩnh from Huế City.
The map provides historical information on the site for officials who had previously proposed two solutions to rebuild the tomb, which was bulldozed over by a construction company that was clearing the site to build a parking lot in 2017.
The map, named Họa Đồ Lăng Tẩm (Map of Mausoleums) with a scale of 1/2000, includes pictures of Tự Đức King's Mausoleum in Dương Xuân Thương Village in Thủy Xuân Commune in Huế City.
It was drawn on tracing paper sized 0.51 x 0.55m and published by the agriculture department of the Thừa Thiên-Huế Revolutionary People's Committee in December 1975.
The map was signed and sealed by Văn Lạng, the department's deputy director.
The map features land plots of the mausoleum for Royal Concubine Học Phi, a wife of the king (in plot number C215), and a mausoleum area for Royal Concubine Lê Thị Thục Thuận (in plot C217).
The images on the map correspond to the same position where the tomb of Royal Concubine Lê Thị Thục Thuận existed before it was bulldozed over in June 2017.
The Culture and Sports Department of Thừa Thiên-Huế Province previously proposed two solutions, one of them being the resumption of the project to build a parking place for tourists to visit the mausoleums of kings Tự Đức and Đồng Khánh.
The project has been delayed after the public voiced concern about the matter since the case was discovered in 2007.
King Tự Đức, born in 1829, was the fourth and longest-reigning (1847-1883) king of the Nguyễn Dynasty. He had 103 wives, but few reports on his wives exist. — VNS