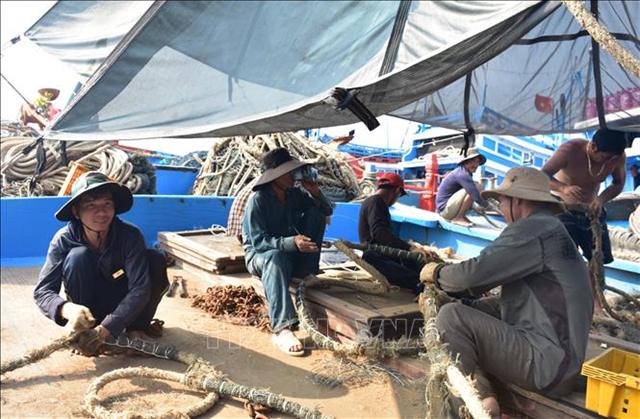 Fishermen at the Thọ Quang fish port in the central city of Đà Nẵng. — VNA/VNS Photo Quốc Dũng
QUẢNG NGÃI — A shortage of labour has affected offshore fishing in many central coastal provinces, with many ship owners forced to hire inexperienced seamen.
Thọ Quang fishing port located in Đà Nẵng's Sơn Trà District is popular among ship owners in the central provinces because it covers more than 60ha and has convenient trading links. In recent months, however, the wharves have often been deserted as vessels lack labourers, Vietnam News Agency reported.
Trần Minh Thọ, a ship owner from Quảng Ngãi Province's Đức Phổ District, said his ship docked for days because he could not find enough workers.
Thọ said he needed at least 10 labourers for a trip but could only find eight fishermen. Most had worked with him for many years.
Trần Sinh, a fisherman in Đà Nẵng, said unstable incomes and hard work were causing fishermen to seek other work.
Their wages depend on the quantity of fish they catch.
Workers often switch vessels to find more lucrative work, according to Sinh.
Nguyễn Ngọc Linh from Quảng Ngãi Province said he needed at least 12 seamen for his vessel but he could only hire five.
According to Linh, experienced seamen are getting older, while young people are put off by the hard work.
He would have to sell his ship if the situation continues.
Nguyễn Tấn Thành, a fisherman who used to own two vessels worth more than VNĐ3 billion (US$130,400), now works on a fishing boat at Thọ Quang port in Đà Nẵng.
In 2015, Thành borrowed money to buy two fishing boats, Tuổi Trẻ (Youth) newspaper reported.
Unfortunately, he wasn't able to find enough workers so his vessels couldn't leave the port. Eventually, he had to sell the boats to pay the debt.
"I bought the vessels and used them for two years, but only had two profitable trips. I was only able to employ 9-10 labourers while I needed 17-20," Thành said.
Some ship owners said they used to make 10-14 fishing trips each year, but this number had dropped by half.
More factories and enterprises, as well as the strong development of the tourism sector, had attracted many local workers away from fishing, they said.
According to the Agriculture and Rural Development Department in Quảng Nam Province, there are about 780 offshore fishing ships working in the province, which is already higher than the planned figure of 750 vessels by 2020.
The government has issued policies to support fishing, so many fishermen are able to upgrade their vessels and work offshore.
Each offshore fishing vessel needs more workers than those fishing inshore.
In line with Government Decree 67, many ship owners in Quảng Ngãi Province have upgraded their vessels.
Most of the wooden boats operate effectively. However, those made of steel often encounter problems.
Võ Văn Hân, the owner of a steel fishing vessel in Bình Sơn District, said sometimes captains were not familiar with the operation of steel vessels, so the machinery and equipment were not maintained.
"Steel fishing ships cost more than wooden ships, while seamen do not operate the vessels well so the catches are not high, hindering their ability to repay," Hân said.
With more than 20 years working in the fisheries industry, Phùng Đình Toàn, deputy head of the sub-department of fisheries under Quảng Ngãi Agriculture and Rural Development Department, said Decree 67 had helped ship owners to modernise and upgrade their vessels and ensure safety when fishing offshore.
However, fishing methods and equipment had not changed.
Production had not increased, while high costs had discouraged many fishermen from using steel vessels, said Toàn.
The director of a ship building factory in Đà Nẵng also told the newspaper that fishermen in the central region lacked the skills to operate the vessels.
In the first six months of this year, over 7,600 fishing ships in central provinces docked at Thọ Quang fishing port, catching more than 54,880 tonnes of seafood, said Đặng Duy Hải, deputy director of Đà Nẵng Fisheries Department.
While the number of fishing ships has increased, the workforce is sadly falling, according to Hải. — VNS