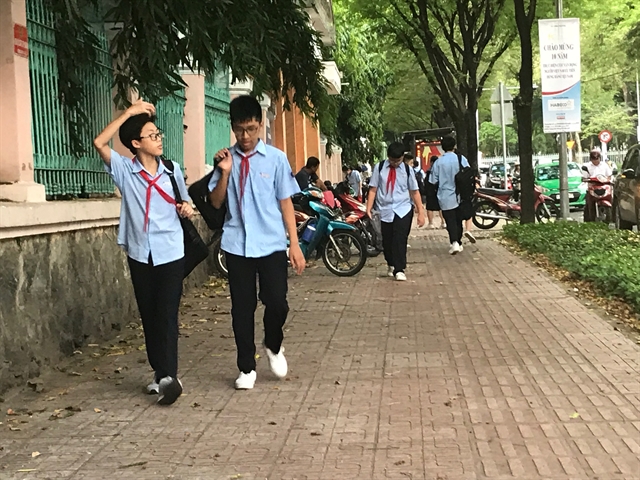 The number of students from kindergarten to high school in HCM City will increase by 75,434 in the upcoming 2019-2020 academic year. VNS/Photo.Gia Lộc
HCM CITY — The number of students from kindergarten to high school levels in HCM City will increase by more than 75,400 in the 2019-20 academic year, according to the city's Department of Education and Training.
The total number will reach more than 1.7 million, said Lê Hồng Sơn, the department's head, at the 15th session of the city's People's Council meeting, which ends today.
Of these, secondary schools will see the highest increase, with more than 26,400 students, followed by primary schools, high schools and kindergartens.
The rise in the number of students in the city districts of 7, 9, 12, Gò Vấp, Tân Phú, Bình Tân, Thủ Đức, Bình Chánh, Hóc Môn and Củ Chi is due mostly to an increase in people moving to HCM City from other provinces and cities.
For the upcoming academic year, as many as 1,476 new classrooms will be put into use, including around 500 for primary school students and more than 380 for secondary school students.
As of June, the city had a ratio of 278 classrooms per 10,000 school-aged people (3 to 18 years), Sơn said.
To reach the ratio of 300 per 10,000 school-aged people by next year, the department will build 15,940 new classrooms between 2016 and 2020.
Under the 2019-2020 school year plan, public kindergartens will start to admit children on September 5. Students at primary to high schools and continuing education centres will return to school on August 19.
The city has allocated nearly VNĐ533 billion (US$23 million) to buy new equipment for schools in the summer.
More applications
The department will recruit 443 more teachers and 88 IT engineers, librarians and other positions for the upcoming academic year.
Like last year, the number of applicants this year has been higher than the department's needs. It has received 1,200 applications this year.
Last year, the city removed the requirement for residency status from recruitment criteria for schools.
The department last year also permitted the Lê Hồng Phong and Trần Đại Nghĩa High Schools for the Gifted to recruit teachers on their own.
This year, 22 educational establishments managed by the department, including City Kindergarten and Nguyễn Đình Chiểu Specialised School for the Blind, will be allowed to recruit teachers by themselves. VNS