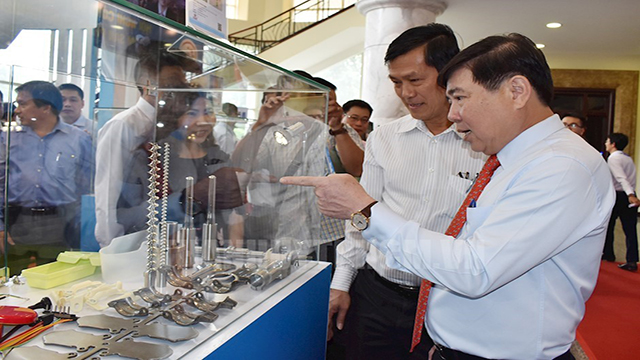 Key industrial products on display on the sidelines of a meeting held in HCM City recently. The city is keen to boost the development of certain key industrial products. — VNS Photo
HCM CITY — HCM City is offering support in the form of financial assistance, land, workforce training, technology, trade promotion, and brand building assistance to businesses making key and promising industrial products, according to its Department of Industry and Trade.
The city has identified seven key industrial product groups — moulded metallic products such as high-precision moulds, steel and machine parts; electronic goods and cables; plastic and rubber; processed foodstuff; beverages; information technology; apparel; and other groups of industrial products with high potential.
Nguyễn Phương Đông, the department's deputy director, said according to the city's land use zoning plans for until 2020, there are 6,245ha of industrial land, an increase of 1,500ha from 2010.
"The city will earmark industrial lands to solicit investment in the production of the key industrial products besides setting up industrial parks.
"The city will prioritise allocation of industrial lands to enterprises investing in the production of key and promising industrial products, besides creating favourable conditions in terms of administrative procedures for investors."
These businesses would benefit from the city's investment stimulation programme, be part of the city's programme to link banks and businesses and their products would get priority in allocation of public investment and procurement, he said.
Producers of key industrial products would also be part of programmes that help small- to medium-sized enterprises improve their competitiveness and integrate globally with a focus on training and consultancy in quality management, innovation, intellectual property rights, and others, he said.
Besides, these businesses would get priority in the city's local and overseas human resource training programmes, he said.
They would get financial assistance to promote the key industrial products at trade fairs and exhibitions in and outside the country, he added.
Faced with businesses' low access to modern production technologies, the Department of Science and Technology in collaboration with other relevant agencies has organised seminars to collect feedback from experts and relevant agencies on fostering the key industrial products by promoting the application of science and technology in their production.
Nguyễn Kỳ Phùng, deputy director of the department, said the city offered great support to businesses in developing the key industrial products in the form of assistance with research and technological development, commercialising their research results, technology transfer, incubating start-up projects, and others.
The city encourages companies to innovate and helps set up links between them and research institutions to help develop high-quality key industrial products.
Đông said through such support policies, "The city expects that the key and potential industrial products will help its industrial sector develop in a sustainable manner and contribute more to the economy."
High IIP
The city's index of industrial production (IIP) in the first six months of the year grew at an estimated 7 per cent year-on-year, with its four key sectors — food processing, chemical-rubber-plastic, mechanics, and electronics –expanding by 5.5 per cent.
It is eyeing 8.1 per cent growth this year.
Phạm Thành Kiên, director of the Department of Industry and Trade, said the target was to restructure the industrial sector to increase the ratio of manufacturing and reduce the rate of outsourcing and assembling.
The focus was also on developing comprehensive industrial production to gradually create branded and competitive products for the regional and world markets, he added. — VNS