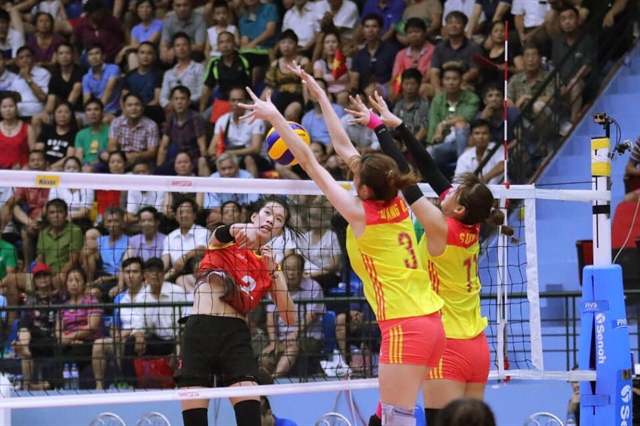 Trần Thị Thanh Thuý of Việt Nam (left) makes a spike during the match against China on Thursday. Việt Nam lost 1-3. — Photo asianvolleyball.net
HÀ NỘI — Việt Nam suffered their first defeat at the Asian Women's U23 Volleyball Championship losing 1-3 to China in the top eight playoff match Group E on Thursday in Hà Nội.
Wu Han of the visiting side won 26 points, which included 20 attacks and five blocks. While Vietnamese captain Trần Thị Thanh Thuý scored 11 points, half of her score in the previous game against Chinese Taipei.
China, the title favourite, stormed to a 20-11 lead in the first set which saw strong spikes from Sun Jie and Wu, who won the Best Opposite Spiker at the Women's U20 World Championship in Mexico in 2017.
Trần Thị Bích Thủy helped Việt Nam fight back and reduce the score to 13-23. But it was tough for the hosts to secure more points as China dominated the match to win 25-14.
The second set was no different for the hosts who struggled to resist Chinese fast spikes from 192cm Zahng Yuqian and 194cm Gao Yi. who also met no difficulty in blocking spikes from the Vietnamese side. It ended 25-15 for them.
The third set at the Gia Lâm District Stadium saw captain Thuý at her best, attacking and scoring from all corners. She played a key role in helping Việt Nam level the score at 23-23, before winning the set 25-23.
However in the fourth set the stronger team ruled the game. China led from the first point and won 25-13.
In another match of this group, Chinese Taipei beat New Zealand in straight sets 25-19, 25-12, 25-18.
In Group F, North Korea were unbeaten against Kazakhstan 25-17, 24-26, 26-24, 25-22. In-form Thailand trounced Hong Kong 25-19, 25-15, 25-17.
Group E's top-placed China will next play Hong Kong in the quarter-finals while second-placed Việt Nam will see Kazakhstan which placed third in Group F.
Other quarter-final matches are between North Korea and New Zealand and Chinese Taipei versus Thailand.—VNS