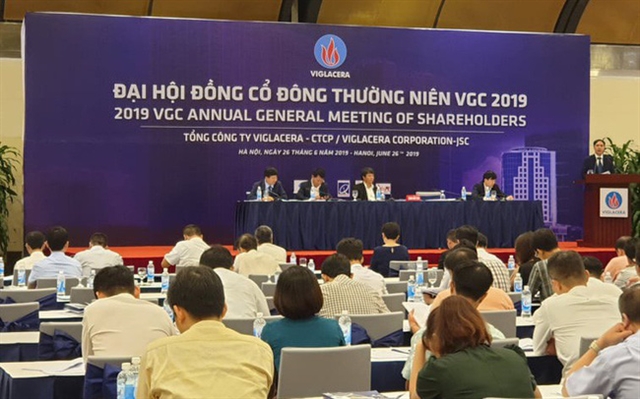 Ceramic and tile producer Viglacera on Wednesday told its shareholders that the actual performance in 2019 could beat previous forecasts due to increasing demand for green building materials and clean energy development. — Photo cafef.vn
HÀ NỘI — Increasing demand for green, environmentally-friendly materials and devices may help Viglacera earn higher-than-expected pre-tax profits this year.
The largest ceramic and tile producer by market value expected actual full-year pre-tax profit to beat projections by nearly 16 per cent, heard the firm's annual shareholder meeting on Wednesday.
Viglacera had previously set a 2019 target of VNĐ9.3 trillion (US$400 million) in total revenue and VNĐ950 billion in pre-tax profit. The figures would mark an increase of 5.5 per cent and 12.2 per cent year-on-year.
But actual earnings this year may reach VNĐ1.1 trillion in pre-tax profit, 15.8 per cent higher than the original forecast.
According to the firm's management board, pre-tax profit of VNĐ1.1 trillion was feasible.
In the first half of the year, the group estimated pre-tax profit of its parent unit was VNĐ422 billion, accounting for 65 per cent of the annual target.
The company attributed its confidence in future growth to high demand for green building materials and said it would make further investments in this area.
The company acknowledged difficulties ahead as the property market was showing signs of slowing down and Chinese products were becoming more competitive.
However, the signing of the Europe-Việt Nam Free Trade Agreement (EVFTA) may offer the firm new opportunities abroad for glass exports.
In addition, chances will come from stronger market purchases of solar energy. The solar energy sector has grown strongly in recent years, especially in the south central region.
State divestment continues
The Ministry of Construction will continue to sell the State capital it holds in Viglacera to zero per cent by early 2020 in accordance with the Prime Minister's Decision 1232/QĐ-TTg dated August 17, 2017.
The construction ministry is holding 173 million Viglacera shares, equal to a 38.6 per cent stake in the company.
The ministry sold 69 million Viglacera shares – accounting for 85 per cent of total shares offered for sale – at an auction on March 29 for VNĐ1.58 trillion.
In 2018, Viglacera posted VNĐ8.8 trillion in total revenue, down 4.2 per cent year-on-year. Its post-tax profit last year fell 10.7 per cent to VNĐ667 billion.
The company debuted on the Hồ Chí Minh Stock Exchange on May 29, listing more than 448.3 million shares under code VGC.
It had traded on the Hà Nội Stock Exchange between October 15, 2015 and May 17, 2019 with the same ticket.
Its shares fell 0.5 per cent on Wednesday to close at VNĐ20,800 ($0.89). — VNS