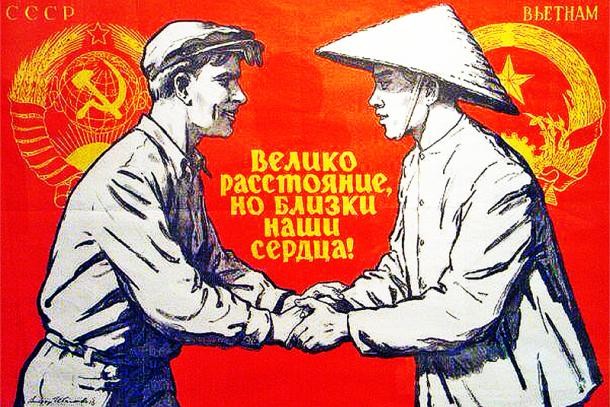 A Soviet poster entitled "The distance is long, but our hearts are close". — Photo courtesy of the embassy
To mark the National Day of the Russian Federation on June 12, Việt Nam News presents an article by Konstantin V. Vnukov, Ambassador of the Russian Federation to Việt Nam
Strategic partners
June 12 in the Russian Federation is the National Day – the day of Russia. On this date 29 years ago, the Declaration of State Sovereignty of the Russian Soviet Federative Socialist Republic was adopted, marking the creation of a new Russian state. A new stage began in the thousand-year Russian history. Later on, serious changes occurred in our country's policy, economy and lifestyle, but some things have remained unchanged. These, in particular, are relations with a geographically distant but spiritually close friend – Việt Nam.
In our common past, there are many glorious pages about which we are proud to tell our children and grandchildren – the joint struggle for freedom and independence, the post-war reconstruction and building of the national economy. However, most important is that now we have not only a rich history, but also a dynamic present, and, I am sure, a bright future.
Russian-Vietnamese relations are developing rapidly and steadily, covering all areas and forms of co-operation. Close ties are maintained in the political, economic and humanitarian spheres at all levels – from top government leaders to regions and ordinary people. It is not by chance that our bilateral relations reached the high status of a comprehensive strategic partnership.
The deepening of ties is largely promoted by regular dialogue at the political level, active contacts between relevant ministries, departments and public organisations. Only in the last couple of years, all top leaders of Russia and Việt Nam have exchanged visits – quite a rare case in world diplomatic practice!
Close co-operation continues in the international arena, where our states have a high degree of mutual understanding on many important international issues. Russia and Việt Nam consistently support collective principles in world politics, the formation of a multipolar global system and the international law-based order where the UN plays a core role. Good prospects for co-operation will open up with the chairmanship of Việt Nam in ASEAN in 2020 and Hà Nội's joining the UN Security Council for 2020-21.
Today, trade and economic co-operation is a key component of Russian-Vietnamese relations. The milestone in this regard was the official visit to Russia of Prime Minister of the Socialist Republic of Việt Nam Nguyễn Xuân Phúc in May this year. Important agreements were reached to develop the bilateral comprehensive strategic partnership in all key areas. These are energy, oil and gas, military-technical co-operation, nuclear science, information security and e-government. Plans and programmes outlined during the visit will determine the guidelines for co-operation between Russia and Việt Nam for many years ahead.
Another important sphere is education, where we have a history of bilateral contacts. The first small group of Vietnamese students, including President Hồ Chí Minh, came to study in Russia in the early 1920s. Since the 1950s, about 150,000 Vietnamese specialists have been trained in Soviet and Russian universities. Over 50,000 of them received higher and secondary education and more than 2,000 became PhDs. Currently, over 5,000 students from Việt Nam are studying in our universities. Every year, Moscow provides a thousand state-sponsored scholarships for Vietnamese students – more than to any other non-CIS country.
Spiritual ties
As you see, our strategic partnership is made up of many components, among which cultural – or in a broader sense spiritual – ties between our peoples have a special place. This is understandable, given that it is humanitarian exchange that has always helped promote contacts between Russian and Vietnamese citizens, strengthened mutual understanding and created a favourable atmosphere for further fruitful interaction between the two states.
In May, Prime Ministers Dmitry Medevedev and Nguyễn Xuân Phúc opened the Year of Việt Nam in Russia and the Year of Russia in Việt Nam, an integral part of which are cultural exchanges. In addition, 2019 in Russia is a year of theatre, and for those reasons it would be "a crime" not to invite our artists to the Vietnamese scene in this very special period. This is why we are very lucky to welcome the Ekaterinburg Opera and Ballet Theater at the Hà Nội Opera House today.
The Ekaterinburg Opera and Ballet Theater is one of the four federal musical theatres in Russia. Over the years, it has become one of the main sites for experiments in this genre, and in 2019, it won the Golden Mask National Theatre Award. At the same time, Ural Opera Ballet traditionally stages well-known classic performances. One of them – ballet Giselle – will be presented to Hanoians to mark our National Day.
As the Ambassador of Russia to Việt Nam, I am glad that bringing our art groups to this country has become a good tradition. Russian culture is quite popular in Việt Nam because of sincere sympathy and friendship, mutual respect and trust that exists between our peoples. I believe this important pillar of Russian-Vietnamese relations will always help us move forward. — VNS