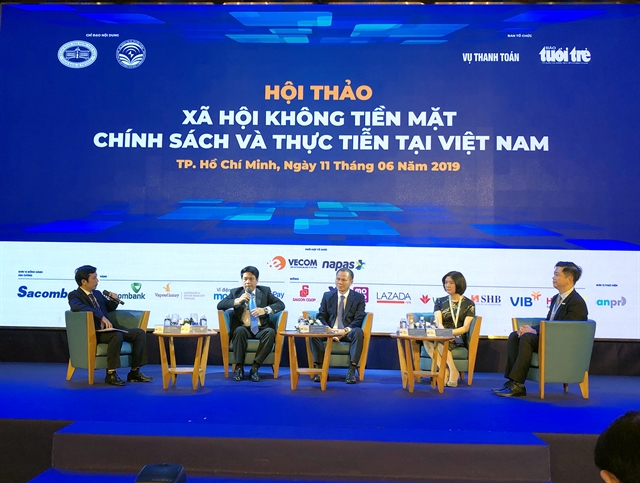 HCM CITY — Cashless payment is an irreversible trend during the time of the fourth industrial revolution, Deputy Prime Minister Vương Đình Huệ told a conference in HCM City yesterday.
Speaking at Cashless Society: Policy and Reality, he said "cashless payment also helps improve transparency and combat corruption, money laundering and economic crimes".
In recent years the Government has paid much attention to promoting cashless payments and electronic payments to support its e-Government agenda and providing online public services at levels 3 and 4, he said. The third level allows applicants to fill and submit forms online but they have to pay fees at the relevant government agency and the fourth level allows payments too to be made online.
"It is clear that cashless payment offers benefits in many aspects, helping enterprises, offices and public agencies to reduce transportation, buying special-use vehicles and raising the efficiency of the banking sector," Huệ said.
Nguyễn Kim Anh, deputy governor of the State Bank of Việt Nam, said: "With the Government's strong direction, cashless payment transactions increased strongly last year.
"In 2018, the inter-bank electronic payment system safely handled 137.6 million transactions worth a total of VNĐ73 quadrillion (US$3.13 trillion), equal to 13 times the country's GDP, up 25 per cent from 2017.
"Payments made via mobile devices increased by 169.5 per cent in terms of value compared to 2017."
But a cashless society did not always bring positive results, he said.
"There are some concerns about the potential risks of breach of confidentiality, data safety and network security. These are what Vietnamese management agencies have paid and will pay attention to in the process of planning and implementing policies to become a cashless society."
Despite a strong increase in non-cash transactions, cash transactions remain highly popular in Việt Nam, according to delegates.
Trần Tuấn Anh, managing director of e-commerce firm Shopee Việt Nam, said of the seven countries the company operates in, Việt Nam had the highest rate of cash payments.
He attributed this not only to consumers' habit but also their non-cash experience not being really convenient.
Nguyễn Anh Đức, acting general director of Saigon Co.op, said the number of customers making non-cash payments accounted for only 5 per cent. Many complained that non-cash payment was not yet convenient, he said.
"They also think that cashless payments mean only the use of cards, but in fact there are many other non-cash payment forms such as by scanning QR codes or using electronic wallets, which are all used at Saigon Co.op's retail systems."
Phạm Tiến Dũng, director of the SBV's payment department, said the promotion of non-cash payment still faced challenges, including in terms of people's habit of using cash, willingness to connect public services providers and banks and developing databases and the information exchange and sharing capability.
According to delegates, the payment infrastructure is still concentrated mainly in urban areas and has not reached rural areas.
In order to promote non-cash payment, the country needs as many new payment products and services as possible.
The payment methods should meet the needs of users, especially those in rural areas, while service providers with payment systems should be connected with one another.
Đức said it was also necessary to resolve other issues related to payment policies, links between e-wallets and others.
Nguyễn Minh Tâm, deputy CEO of Sacombank, said: "Authorities should study mechanisms to allow the State Treasury to open collection accounts at commercial banks. When opening this kind of account, payments for public services will be speedy and error-free."
He also suggested that the SBV should soon allow the use of customer identification to promote non-cash payments.
Huệ instructed the SBV to co-ordinate with the Ministry of Information and Communication and other ministries and agencies to strengthen the legal framework for cashless payments and enhance the use of new and modern non-cash payment methods for public and social welfare services.
Organised by the Tuổi trẻ (Youth) newspaper and the SBV's payment department, the conference was among activities held to mark Cashless Payment Day, June 16. — VNS