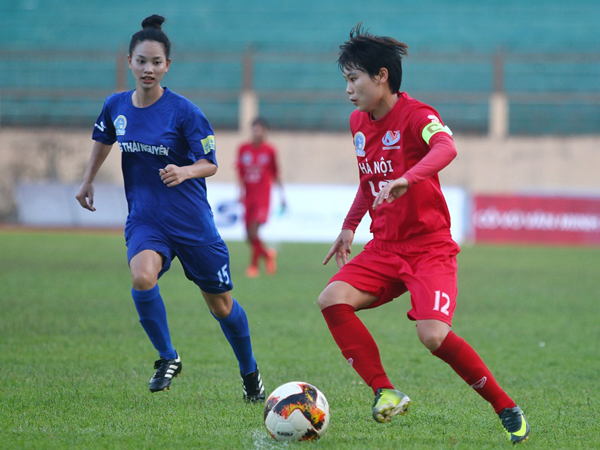 Hà Nội vs Thái Nguyên in the National Women's Football Championship on Tuesday. — Photo vff.org.vn
HÀ NỘI — Hà Nội crushed Thái Nguyên 5-0 in the fifth round of the National Women's Football Championship at the August 19 Stadium in Nha Trang, Khánh Hoà Province on Tuesday.
Hà Nội opened the scoring in the fourth minute following a freekick from Nguyễn Thị Huệ.
In the 28th minute, Phạm Hải Yến headed home to double the score for the team from the capital, and it was 3-0 before half time thanks to another Yến goal.
After the break, Thái Nguyên bounced back strongly, but couldn't find a way through the Hanoian defence.
Hà Nội completed the rout thanks to Bùi Thị Trang and Nguyễn Kim Anh in the 60th and 64th minutes.
With this win, Hà Nội stand on 10 points with HCM City 1 and defending champions Phong Phú Hà Nam, but are behind on goal difference.
On Sunday, teams will compete in the sixth round with Thái Nguyên vs top team HCM City 1, Việt Nam Coal and Mineral facing HCM City 2 and Phong Phú Hà Nam fighting Hà Nội.
Seven teams are competing in the nation's top women's league for a trophy and VNĐ300 million (US$13,000) in cash. — VNS