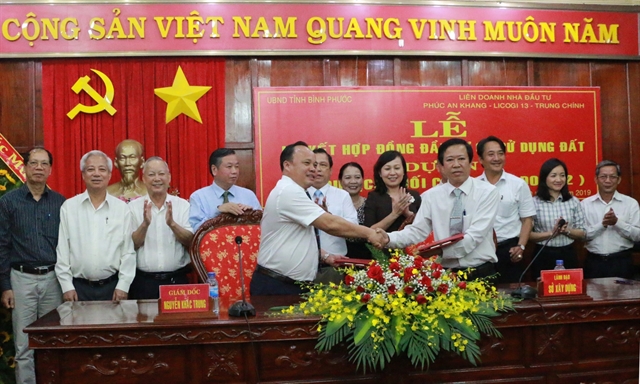 Representatives from Bình Phước People's Committee and investors shake hands after signing the deal. Photo VNA
BÌNH PHƯỚC On Monday, Bình Phước People's Committee and a joint venture between Phúc An Khang Co, Licogi 13 Co and Trung Chính Co have inked a deal to develop the second phase of the Suối Cam tourism complex in the province.
Covering nearly 160ha in Tân Phú and Tiến Thành districts, the complex will have more than VNĐ1.78 trillion (US$76.4 million) once completed.
In his speech at the signing ceremony, the committee's vice chairman Huỳnh Anh Minh spoke highly of the project, which is expected to foster the province's economic development once operational.
Minh asked authorities of Tiến Thành and Tân Phú districts to work closely with the investors on land clearance and resettlement so they can implement the project as scheduled.
Bình Phước Province, with its great potential for ecotourism, is focusing on providing incentives for investors in this sector.
From the list of 62 projects calling for investment between now and 2020, five projects worth $112 million will be in the tourism sector, according to the province's Investment, Trade and Tourism Promotion Centre.
The province welcomed 125,000 visitors in the past five months of 2019, earning tourism revenue of VNĐ75.6 billion, up 7 per cent year on year, according to the provincial Statistics Office. VNS