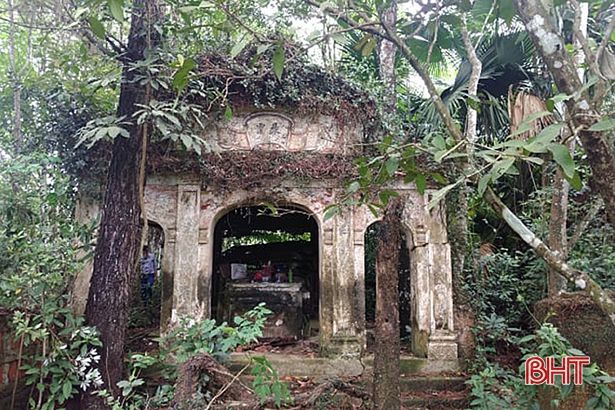 The temple is now surounded by a private garden. — Photo baohatinh.vn
HÀ TĨNH — A 200-year-old temple in the central province of Hà Tĩnh which is part of local spiritual life is in serious need of repair.
Trạng Temple in Trung Định Village was built at the beginning of the Nguyễn Dynasty in 1814. The temple is dedicated to Great General Nguyễn Hữu Hộ.
According to Nguyễn family annals, Nguyễn Hữu Hộ (1768-1789) was a smart, honest child.
At 20 years old, he married Văn Tuân in the same province.
When General Nguyễn Huệ (1753-1792) marched with his army through Hà Tĩnh to recruit more soldiers to fight against northern Qing invaders, Hộ joined the army and was assigned to lead a platoon to march toward Thăng Long to fight the enemy.
During the battle, he was killed on the night of the second lunar day of 1789. Locals built this temple to worship Hộ and celebrate his death every second day of the Lunar New Year.
Over time, the temple has fallen into disrepair.
The temple is located on a high hill and there remains some ancient carvings on its pillars. Various characters on the pillars show that the temple was renovated in 1908 under King Duy Tân's reign (1907-1916).
The temple was built mainly from the wood of jack fruit trees. Experts from the Hà Nội Culture University said the delicate carvings had significant features of the early Nguyễn Dynasty with figures of the dragon, quilin, turtle and phoenix.
At the entrance gate of the temple, "Tối Linh" (Extremely Holy) shows the temple used to play an important role in the spiritual life of local people.
"Sacred objects like palanquins and thrones were gilded with gold and decorated with delicate dragon patterns," said researcher Nguyễn Hữu Gia from the university.
"The temple is among the most important historical, cultural and architectural sites in Hương Khê District," said Vũ Tứ Linh, a local official.
The site is now surrounded by a private garden.
A part of the temple is covered with wild climbers while the most of the remaining wooden pillars have been eaten by termites.
"It could collapse any time especially with the rainy season approaching," said Linh. — VNS