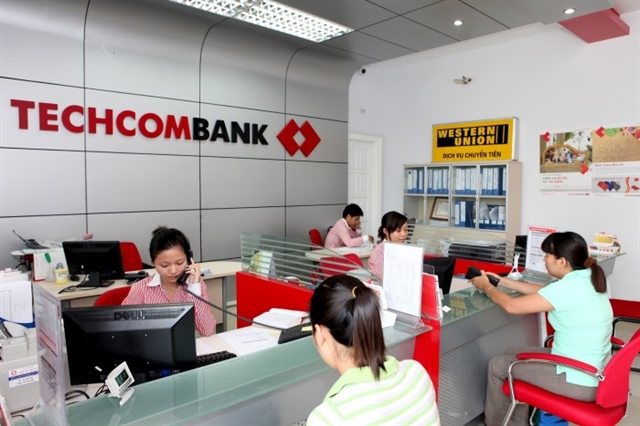 Customers at a Techcombank office. The bank's shares jumped 4.1 per cent yesterday, the highest among listed banks, to boost the benchmark VN-Index on the Hồ Chí Minh Stock Exchange by 1.07 per cent. — VNA/VNS Photo Trần Việt
HÀ NỘI — The VN-Index rose for the third straight session on Wednesday as liquidity improved significantly amid rebounding investor confidence of a global market recovery.
The benchmark VN-Index on the Hồ Chí Minh Stock Exchange gained 1.07 per cent to end at 975.64 points.
Liquidity improved, meaning that cash flow was gradually returning to the market. More than 188 million shares were traded on the southern bourse, worth VNĐ4.2 trillion (US$178 million).
The index gained 0.71 per cent on Tuesday to end at 965.34 points. It has gained total 1.78 per cent since Monday.
Regional and global investor sentiment supported the domestic market as many markets in the region posted gains after sell-off in recent sessions.
The G20 meeting and news about continuing US-China trade tensions will remain the focus of domestic and world markets in the coming weeks.
In the US, the Dow Jones Industrial Average rose 207.06 points, or 0.82 per cent, in the overnight trade to land at 25,532.05. The S&P 500 gained 22.54 points, or 0.80 per cent, to 2,834.41, and the Nasdaq Composite added 87.47 points, or 1.14 per cent, to 7,734.49.
Blue-chips that supported the index included Techcombank (TCB), Vietinbank (CTG), Vietnam National Petroleum Group (PLX) and SSI Securities Incorporation (SSI).
The large-cap VN30-Index was up 1.20 per cent to 893.22 points with 24 stocks rising out of the 30 largest by market capitalisation.
The best-performing industries included food and beverage, mining, insurance, construction materials, real estate, securities, banking, construction and agriculture.
Their indices rose by between 0.7 and 2.5 per cent, data on vietstock.vn showed.
On the opposite side, some oil and gas stocks declined, moving against the general market trend. PetroVietnam Technical Services Corporation (PVS) fell 0.8 per cent, PetroVietnam Drilling and Well Services Corporation (PVD) lost 2.4 per cent, PetroVietnam Construction Corporation (PVC) decreased 2.7 per cent and PetroVietnam Coating JSC (PVB) slumped 1 per cent.
On the Hà Nội Stock Exchange, the HNX-Index rose 0.7 per cent to close Wednesday at 106.43 points.
Around 35.6 million shares were traded on the northern bourse, worth VNĐ461 billion.
The index inched up 0.08 per cent the previous day to close at 105.70 points.
Foreign investors sold a net of VNĐ198.4 billion on the HOSE, primarily selling shares of Vinhomes (VHM) (VNĐ65.6 billion), An Phát Plastic and Green Environment JSC (AAA) (VNĐ36.1 billion) and Hòa Phát Group (HPG) (VNĐ35.7 billion). In addition, they sold a net of VNĐ18.75 billion on the HNX.
The UPCoM Index on the Unlisted Public Company Market (UPCoM) gained 0.59 per cent to close at 55.47 points. — VNS