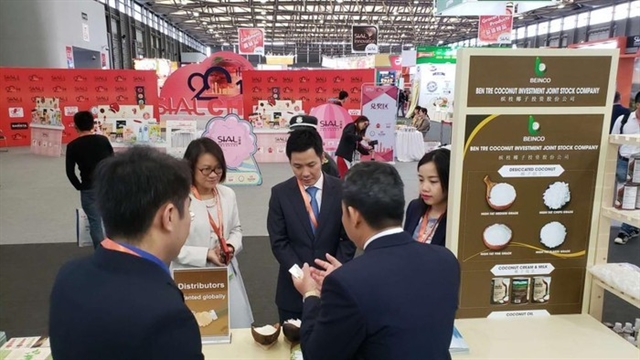 A booth of Vietnamese firm at the SIAL China 2019. Photo baoquocte.vn
SHANGHAI — Twenty-five Vietnamese enterprises are showcasing their products at the SIAL China 2019 – Asia's largest food and beverage exhibition – in Shanghai, China.
Their goods include dairy, cashew nuts, coffee, dried fruits, fruit beverages and coconuts.
The annual exhibition is being participated in by some 4,300 businesses from 70 countries and territories worldwide. The event, which runs until tomorrow, is expected to lure more than 110,000 visitors.
On the sidelines of the event's opening ceremony on Tuesday, the Consulate General of Việt Nam in Shanghai and the Việt Nam Coffee and Cocoa Association held a business conference to connect nearly 40 Vietnamese coffee enterprises with Chinese counterparts.
Speaking at the conference, Consul General Ninh Thành Công said along with good bilateral trade ties, co-operation between two nations' coffee enterprises has also achieved positive results. However, these results still lag behind the expectations of the two countries.
Công said the Consulate General of Việt Nam in Shanghai was willing to help Vietnamese enterprises to understand the Chinese market's demand and seek new partners.
During the event, chairman of the Việt Nam Coffee and Cocoa Association Lương Văn Tự outlined the strengths of Vietnamese coffee and coffee products.
The chairman expressed his hope that through the conference, businesses from both sides would enhance their understanding of each other's needs.
Chinese firms at the seminar affirmed that Việt Nam was a prioritised market for them in Southeast Asia thanks to the country's high economic growth, close location and developing e-commerce sector.
According to trade experts, China is an open and lucrative market for Vietnamese exporters.
They suggested local firms set up facilities to preserve farm produce and apply new technology in cultivation, to improve quality and yields and for tracing of origin as this year Chinese customs has stepped up inspection of Vietnamese agricultural products by requiring approval certificates and origin traceability,
Meeting China's import criteria would help Việt Nam capture a larger market share, experts added.
China is the world's biggest importer of agricultural products, accounting for 10 per cent of global imports, and its imports are growing at 8.8 per cent annually.
Last year, Việt Nam exported US$8.64 billion worth of agricultural products to the neighbour, accounting for 70 per cent of its agricultural exports. VNS