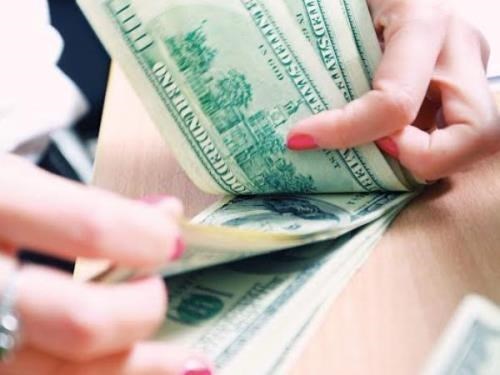 Since the beginning of the year, the central bank has raised the daily reference rate by VNĐ236 per dollar, equivalent to 1.03 per cent. — VNA/VNS Photo
HÀ NỘI — The Vietnamese đồng will fluctuate around VNĐ23,200 in the next few months thanks to a positive supply source in the local market, according to the National Centre for Socio-Economic Information and Forecast.
Most currencies of emerging countries in Asia have strengthened against the dollar, with Indonesia's Rupiah up 2.7 per cent and Thailand's Bath up 2.3 per cent.
In the domestic market, the centre predicted the dollar supply and demand in the second quarter would continue to be positive while the nation's foreign reserve has kept growing.
"The favourable conditions will help the central bank intervene and stabilise the exchange rate and the foreign currency market," the centre explained.
A State Bank of Việt Nam (SBV)'s reports showed the central bank net bought US$8.5 billion in the first four months of the year, increasing the nation's foreign reserve to a record high of US$69 billion.
Since the beginning of the year, the central bank has raised the daily reference rate by VNĐ236, equivalent to 1.03 per cent.
The daily reference exchange rate topped VNĐ23,000 per dollar on April 23 and has continued to set new highs since then. Analysts at Bảo Việt Securities Company (BVSC) attributed the strong rise to escalating trade tensions between the US and China.
According to the analysts, trade tensions have impacted the exchange rates of many currencies, including the đồng. They said the SBV has the option to sell US dollars to keep the exchange rate stable.
On Thursday, after appreciating the US dollar against the đồng in the half of the week, the SBV unexpectedly adjusted the daily reference exchange rate down by VNĐ8 to VNĐ23,056 per dollar.
With the current trading band of +/-3 per cent, commercial banks can list their rates at a ceiling of VNĐ23,747 per dollar and a floor of VNĐ22,365 per dollar.
Commercial banks followed the SBV's move, inching the dollar down against the đồng on the day.
Vietcombank listed its buying rate at VNĐ23,245 per dollar and the selling rate at VNĐ23,365, down VNĐ5 from Wednesday.
Techcombank quoted its rates at VNĐ23,225 for buying and VNĐ23,365 for selling, also down VNĐ5 against the previous day.
Fitch Group's Fitch Solutions Macro Research recently forecast the Vietnamese đồng would remain mostly stable against the US dollar in the near future, supported by the country's robust foreign direct investment (FDI), a healthy current account surplus and the central bank's active intervention.
According to Fitch, the đồng will weaken slightly against the dollar to VNĐ23,700 by the end of the year to average VNĐ23,440 per dollar over 2019, which represents a 1.8 per cent depreciation from the 2018 average. — VNS