TIỀN GIANG – The Cửu Long (Mekong) Delta province of Tiền Giang will continue to exhort farmers in flood-prone areas to grow crops based on zoning plans to ensure sustainable development, according to its Department of Agriculture and Rural Development.
Farmers would be taught advanced farming techniques and helped with reorganisation of their farming and promotion to ensure outlets for their produce, it said.
The higher income from growing fruits and breeding aquatic creatures then from rice has caused many rice farmers in flood-prone areas in the west of the province to make the switch.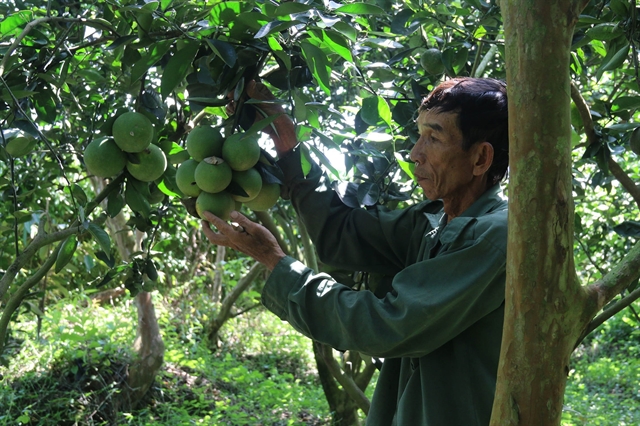 An orange farm in Tiền Giang Province's Cái Bè District. – VNA/VNS Photo Minh Trí
More than 5,800ha of rice fields in Cai Lậy, Cái Bè, Tân Phước, and Châu Thành districts and Cai Lậy Town have been converted into fruit orchards since 2016, according to the department.
Speaking at a seminar held in the province on Wednesday (May 15), Nguyễn Văn Mẫn, the director of the department, said the trend has been growing recently but much of the conversion is haphazard and without proper planning.
It results in creating small-scale crop growing areas and flouting the province's zoning plans, he said.
The conversion of rice fields into orchards in unzoned areas also causes another problem during the flood season when the level rises in the Mekong River.
If too much of the floodwaters is released into rice fields, the fruit orchards in their midst become submerged.
Using rice fields to farm aquatic creatures outside zoned areas causes pollution because of the lack of infrastructure for treating wastewater.
Besides, rice farmers who switched to growing fruits or aquaculture are not sufficiently trained in those and so can get poor harvests or face disease outbreaks, according to the department.
Trần Văn Phải, one of the first farmers in Cai Lậy District's Bình Phú Commune to give up rice, said he does not know if the Thai jackfruit he now grows is appropriate for the area's soil, which common diseases afflict the fruit or how to treat them.
Mai Văn Năng of Tân Phước District's Phước Lập Commune now breeds tra fish fry and ornamental fish in his 2,000 sq.m rice field.
He does not know advanced techniques and depends instead on his experience and learning from other fish fry breeders, he said.
Therefore, the survival rate of his fry is only 8 – 10 per cent, he said.
He wants local agricultural officials to strengthen extension activities, including teaching farmers fish fry growing techniques and how to prevent fish diseases, he added.
Tiền Giang, the country's largest fruit producing province, has more than 77,000ha of orchards. The flood-prone areas are among its largest fruit growing areas. – VNS