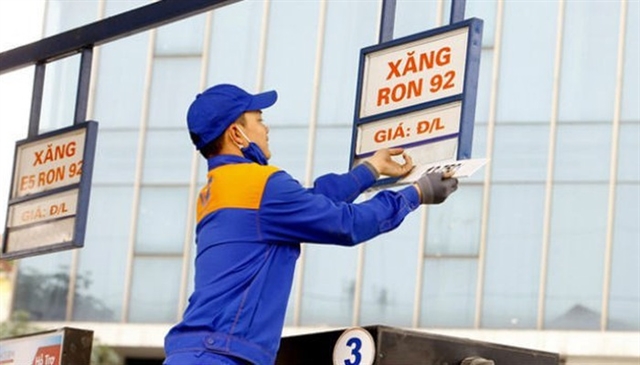 Petrol prices fell on Friday, the first decline following three increases totalling VNĐ3,500 per litre. — Photo vtc.vn
HÀ NỘI — Petrol retail prices were reduced at 3pm on Friday, the ministries of industry and trade and finance jointly announced.
The prices of RON 95-III fell by VNĐ592 per litre to VNĐ21,599 (US$0.92) and E5 RON 92 by VNĐ200 to VNĐ20,488.
Diesel is VNĐ81 cheaper at VNĐ17,614 and kerosene, VNĐ203 lower at VNĐ16,422.
The ministries also decided to reduce the use of subsidies from the petrol price stabilisation fund as the balance at petrol firms was negative.
Subsidies for E5 RON 92 was reduced by VNĐ457 and that for RON 95 zero per litre, respectively. For diesel, kerosene and mazut, the subsidies remained unchanged.
According to the ministries, in the fortnight before May 17 global prices fell.
The price of RON 92, which is used to produce biofuel E5, averaged $75.58 per barrel while RON 95 was at $77.39, down $5.86 and $4.89 respectively.
This was the first retail price cut after three consecutive rises totalling VNĐ3,500 per litre. On the last occasion on May 2, the prices of E5 RON 92 and RON 95 increased by nearly VNĐ1,000 per litre.
The Government recently instructed ministries and local administrations to take proactive measures to contain inflation at 3.3-3.9 per cent this year.
It instructed the two ministries to respond appropriately if fuel prices surge and threaten to affect the inflation target. — VNS