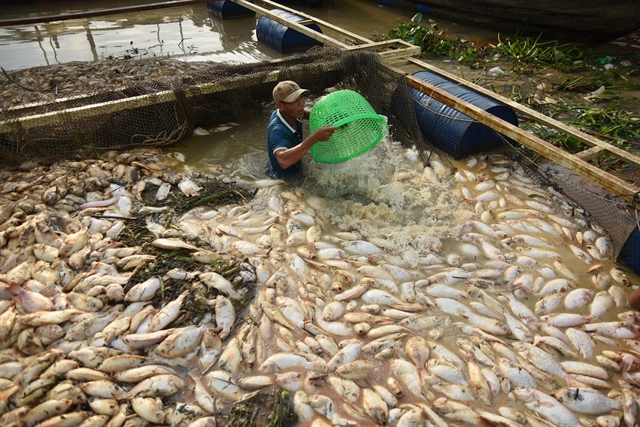 A farmer collects his dead fish on La Ngà River in southern Đồng Nai Province. — VNA/VNS Photo Lê Xuân
ĐỒNG NAI — Nearly 1,000 tonnes of fish have died since last Thursday on the La Ngà River in southern Đồng Nai Province, causing losses of billions of đồng to local fish farming households.
Ngô Tấn Tài, vice chairman of the Định Quán District's People's Committee, told Tuổi trẻ (Youth) newspaper that 81 fish farming households from La Ngà and Phú Ngọc communes had reported 977 tonnes of dead fish as of Monday.
The fish, including hemibagrus, red tilapia and carp, were mature and ready to be sold.
Earlier, last Friday, the committee reported there were 16 affected households in the two communes with 330 tonnes of dead fish.
Tài explained that the committee so far still had no final figure and would continue to collect statistics on dead fish from local households to get the most accurate number.
Tài asked the provincial People's Committee, the Department of Natural Resources and Environment, and the Department of Agriculture and Rural Development to work with relevant agencies to investigate the mass fish deaths.
On May 16, fish farming households found their stock floating on the water after heavy rainfall occurred at about 5am. They showed signs of a lack of oxygen.
The households said they did all they could to save the fish, including using oxygen aerators and pulling fish cages towards lower areas of the river. However, the fish still died en mass.
On May 18, the Ministry of Natural Resources and Environment required the provincial People's Committee to take water and fish samples to evaluate the pollution of the river and re-examine wastewater sources being discharged into the river.
The ministry also asked the committee to direct departments, sectors and agencies to assess losses of the affected households and to instruct them how to collect dead fish properly to avoid environmental pollution.
Notably, the ministry said a similar mass fish death occurred at the same time last year.
The results of the inspection must be publicised to local people and press agencies, the committee said.
The provincial Department of Agriculture and Rural Development estimated that more than 1,900 tonnes of fish from 132 local households were found dead along the 5km river last June.
Locals suspected that discharged wastewater from nearby factories might have caused the deaths.
Water and fish samples were collected for testing two weeks later.
The results showed the low oxygen content in the water and the high density of fish were the main cause of the mass fish deaths.
The heavy rainfall, which swept the polluted water upstream, worsened the incident.
As of last December, the provincial People's Committee spent more than VNĐ12 billion (US$516,000) to support affected households in Phú Ngọc and La Ngà communes. — VNS