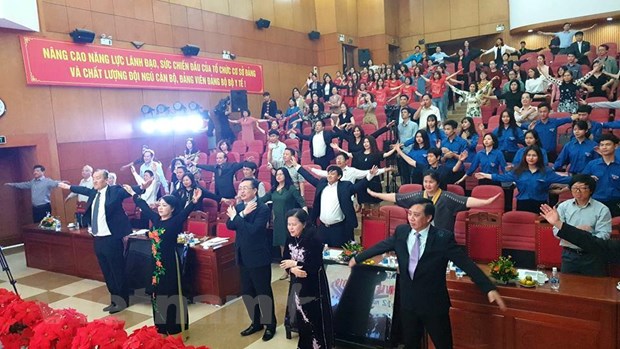 Health minister Nguyễn Thị Kim Tiến (first from left, first row) joins other participants of a meeting to do some physical activities during a break. — Photo Vietnamplus
HÀ NỘI — The Ministry of Health on Tuesday issued a Directive to encourage all staff of the health sector to do more physical activities to improve their health.
About a third of Vietnamese people don't regularly perform physical activities, according to Health Minister Nguyễn Thị Kim Tiến.
Physical inactivity has been identified as the fourth leading risk factor for global mortality, according to the World Health Organisation (WHO).
This was also one of factors leading to risks of non-communicable diseases, affecting people's physical and spiritual health and reducing their lifespan, Minister Tiến said.
Prime Minister Nguyễn Xuân Phúc last year approved the Vietnam Health Programme to improve the well-being, stature, lifespan and life quality of Vietnamese people. Physical activity is one of its priorities.
The health ministry needed to pioneer in implementing the programme with the hope it could spread among the community, Tiến said.
She urged all agencies and establishments of the health sectors to organise physical activities for their staff. Exercises could be done at work, during breaks, in the morning or in the afternoon.
An example of a physical exercise of three minutes suggested by the WHO and the Health Ministry is available at the website of the ministry's Central Health Education and Communication Centre at http://t5g.org.vn/.
Sufficient physical activity helps reduce 30 per cent of mortality risks and 20-40 per cent of risks of getting obesity, cardiovascular diseases, diabetes and some kinds of cancers, according to the WHO. — VNS