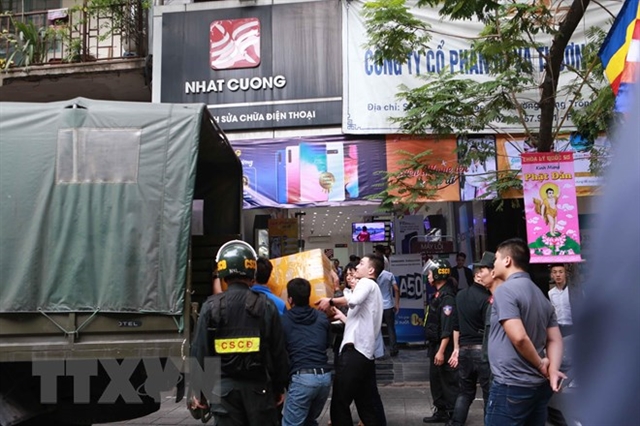 Police inspect a Nhật Cường Mobile Shop in Hà Nộis Lý Quốc Sư Street was raided by police. — VNA/VNS Photo Doãn Tấn
HÀ NỘI — Police have launched legal proceedings against the director of Nhật Cường Company, a major mobile phone dealer in Hà Nội, for alleged smuggling.
Bùi Quang Huy and eight others were detained on suspicion of smuggling and violating regulations of accounting, causing serious consequences.
On May 9, police officers raided multiple Nhật Cường Mobile stores.
Thousands of mobile phones, iPads, and electronic and telecommunications equipment and components were confiscated. All of the outlets were forced to suspend operation.
Huy's house in Tây Hồ District's Thụy Khuê Street was raided.
Police suspect Huy and others organised a transnational smuggling ring and established two systems of financial and accounting documents, hiding significant amounts of revenue.
Police are expanding the investigation to clarify the crimes of those involved and verify the loss of State property.
Nhật Cường Mobile is the brand of Nhật Cường Trading and Technical Services Company Limited with nine retail shops in Hà Nội since 2001.
It has a guarantee centre in the northern region and an enterprise resource planning centre in the south.
The company has also entered the IT sector and won many large bidding packages. In 2017, it was honoured as one of Việt Nam's 50 biggest IT firms.— VNS