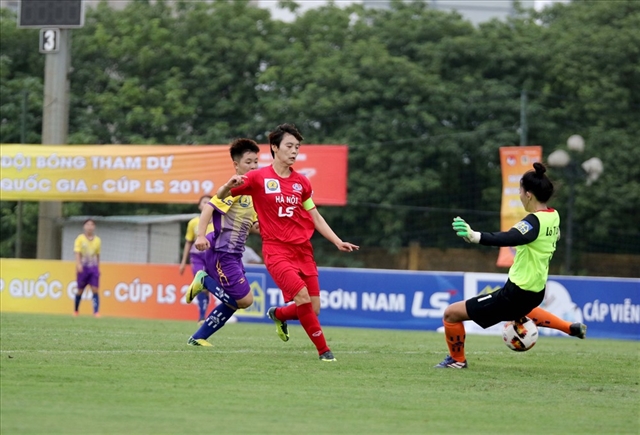 Hà Nội captain Phạm Hải Yến (left) scores four goals to help her team win 7-0 over Sơn La in the National Women's Football Cup. — Photo of VFF
HÀ NỘI — Phạm Hải Yến scored four goals in Hà Nội's 7-0 win over Sơn La in the opening match of the National Women's Football Cup's Group A on May 22.
The hosts showed off their power from the beginning of the match, pushing Sơn La to struggle in defence.
Just seven minutes into the game, the visiting side's defence was broken. Captain Yến found home with an easy finish from a close range.
Shocked by the early goal, Sơn La tried to rearrange their line-up but it was Yến's day. She completed her poker in the next 12 minutes.
The second half did not see any progress from Sơn La.
Hà Nội continued scoring with Kim Anh at the 75th minute, and two goals from Nguyễn Thị Nga and Nguyễn Thị Hoa near the end of the match.
Later, the first match of Group B saw Phong Phú Hà Nam beating TNG Thái Nguyên 5-0.
Đỗ Thị Nguyên opened the score four minutes after the first whistle.
Nguyễn Thị Tuyết Dung made it 2-0 10 minutes later. Nguyễn Thị Quỳnh netted at the 25th mark.
Dung grabbed her second goal in the extra time after Thanh Hương scored at the 84th minute.
In the next fixture, HCM City 2 will see TNG Thái Nguyên while HCM City's Youth team will face Sơn La on May 25.
It is the first time the National Women's Football Cup has been organised. Six teams are divided into two groups playing in a round robin format. The best team of each group will advance to the final.
The tournament which will pay a total of VNĐ300 million (US$13,000) with the final on May 31.
This year's tournament is sponsored by Thái Sơn Nam Trading Company, which specialises in automation system and electrical equipment. — VNS