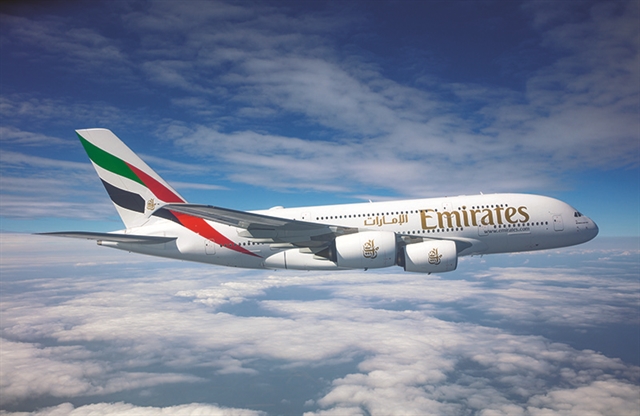 Emirates will receive 14 more Boeing A380 aircraft from 2019 until the end of 2021, taking its A380 fleet to 123. — Photo courtesy of Emirates
HCM CITY — UAE carrier Emirates has announced its 31st consecutive year of profits and steady business expansion.
Its annual report shows a profit of AED2.3 billion (US$631 million) for the financial year ended 31 March, 2019, on revenues of AED109.3 billion ($29.8 billion), an increase of 7 per cent year-on-year.
"2018-19 has been tough, and our performance was not as strong as we would have liked. Higher oil prices and the strengthened US dollar eroded our earnings, even as competition intensified in our key markets," Sheikh Ahmed bin Saeed Al Maktoum, chairman and chief executive, Emirates Airline and Group, said.
"It's hard to predict the year ahead, but both Emirates and dnata are well positioned to navigate speed bumps, as well as to compete and succeed in the global marketplace."
During the year the airline invested $3.9 billion in acquiring new aircraft and equipment, companies, modern facilities, and technologies, and on staff initiatives, a significant increase over last year's $2.5 billion.
Emirates' total passenger and cargo capacity crossed the 63 billion mark by the end of 2018-19, cementing its position as the world's largest international carrier.
Emirates SkyCargo continued to deliver a strong performance in a highly competitive market and falling demand, contributing 14 per cent of the airline's total transport revenues.
It reported revenues of $3.6 billion, an increase of 5 per cent over last year, while the tonnage carried increased fractionally to 2.7 million tonnes.
Emirates operates daily direct flights from Dubai to Hà Nội and HCM City. — VNS