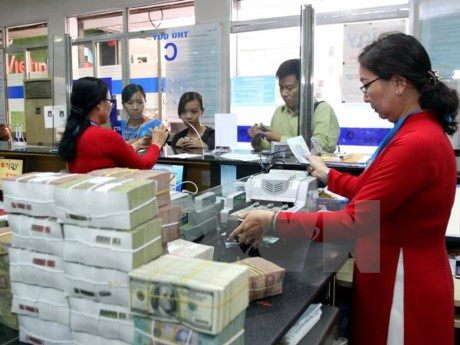 To enable businesses to borrow, banks need to pare their administrative procedures. — VNA Photo
HCM CITY — More administrative reform is needed in the banking industry to make it easier for businesses and individuals to get credit, experts told a conference in HCM City on Thursday.
Đào Minh Tú, deputy governor of the State Bank of Việt Nam, said the banking industry led the Public Administrative Reform Index in 2015, 2016 and 2017 and Việt Nam is ranked 29th out of 190 economies in the Access to Credit Index.
The banking industry has been making progress by reducing administrative procedures, simplifying the process of getting a loan, reducing the processing time, and cutting various fees.
However, Lê Xuân Nghĩa, former deputy chairman of the National Financial Supervisory Commission, said while the banking industry has seen improvements, according to a study by Standard Chartered Bank, around 91 per cent of Vietnamese prefer to use cash, with only 30 per cent using banking services at all.
Economist Nguyễn Trí Hiếu said paperwork and procedures hamper businesses' ability to borrow from banks.
He said many small businesses struggle to get loans from banks since they need to put up collateral, and banks need to stop strictly following this model.
The central bank should work on criteria for a credit rating system for banks and individuals, adding this helps banks in the US lend money within a time.
The Government also needs to improve the credit guarantee system as it will help small businesses access funds, he added.
According to Trần Thị Ngọc Quỳnh and Nguyễn Văn Thích, lecturers at the Banking University of HCM City, although small and medium-sized businesses are aware of the importance of banks in terms of providing banking services, their understanding of these services and procedures to borrow could be limited, which affects their bargaining ability.
Fostering a better relationship between businesses and banks can help businesses access funds.
Tú said the central bank would continue to push for regulatory reforms and make it easier for individuals and businesses to access credit and banking services.
Banks also have to use modern technology to reduce their processing time and offer more services to their customers, he said. – VNS