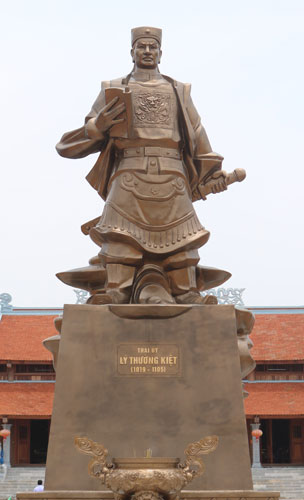 The statue of Lý Thường Kiệt near Như Nguyệt River in Bắc Ninh Province, where he once led a strategic battle against Song Dynasty. — Photo baobacninh.vn
BẮC NINH — Bắc Ninh Province held a series of events to commemorate the 1,000th anniversary of the birth of the talented character Lý Thường Kiệt on Thursday night.
Như Nguyệt River in Bắc Ninh Province was the place where General Lý Thường Kiệt conducted his strategic battle that helps to lead Đại Việt (former name of Việt Nam) to victory against Chinese Song Dynasty in the 11th century.
Lý Thường Kiệt is well-known as a prominent military leader and politician of Đại Việt. In 1075, he led his soldiers north to fight a 40-day battle against Song dynasty of China and gained victory. The following year, the Song allied with two kingdoms, Chenla and Champa, which were enemies of Đại Việt at the time. All three sent troops to invade Đại Việt.
Emperor then sent General Lý Thường Kiệt to lead the battle against the Song Dynasty. As a talented military strategist, Lý Thường Kiệt ordered the place of spikes under the Như Nguyệt riverbed as the death trap and tricked them into the trap. Đại Việt then completely defeated the invasion of the enemies.
Lý Thường Kiệt then wrote a poem, declaring the sovereignty of Việt Nam, which has become well-known as the country's first Independence Declaration.
The ceremony was held in a temple dedicated to Lý Thường Kiệt in Tam Giang Commune, Yên Phong District, which has been recognised as the cultural and historical relic at the province level.
It features art performance and commemoration activities.
The ceremony is participated by Minister of Defence Ngô Xuân Lịch, Minister of Public Security Tô Lâm, Minister of Information and Communications Nguyễn Mạnh Hùng and thousand of local residents and visitors. — VNS