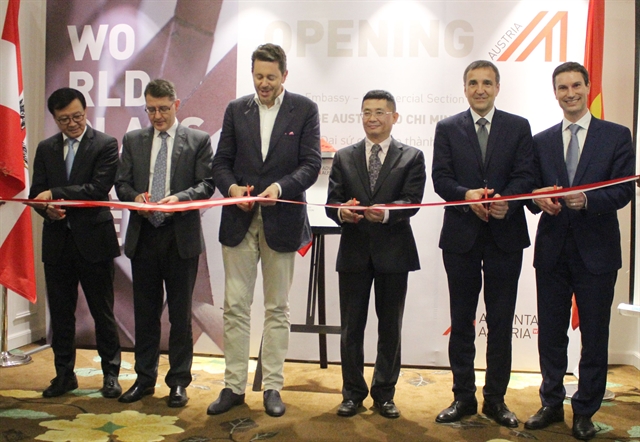 Representatives cut the ribbon to open Trade Office of the Austrian Embassy in HCM City. — VNA/VNS Photo
HCM CITY — The Trade Office of the Austrian Embassy, which opened in HCM City on Thursday, is expected to help connect business communities of Việt Nam and Austria in the future.
Addressing the opening ceremony, Harald Mahrer, president of the Austrian Federal Economic Chamber, said that HCM City is an ideal destination for investment in Southeast Asia, and more Austrian firms were seeking partnership opportunities in the city.
The office will provide accurate and full information about the Vietnamese market to Austrian companies, while linking them with their Vietnamese peers and authorised agencies.
He noted that HCM City is developing impressively and becoming an attractive business destination. The establishment of the office shows Austria's interest in investing in the city and Việt Nam as a whole, he added.
Nguyễn Thế Hưng, vice director of the Vietnam Chamber of Commerce and Industry's (VCCI) HCM City Branch, said that Việt Nam-Austria economic-trade co-operation has developed positively over the years.
Việt Nam is currently the biggest trade partner of Austria in the Association of Southeast Asian Nations (ASEAN), while Austria is now the 6th largest trade partner of Việt Nam in the EU, with two-way trade reaching US$4.3 billion in 2018.
In HCM City, Austria is now the fourth biggest foreign investor with total investment of $41 million, he noted, adding that the results have yet to match the potential of both sides.
Hưng said that Austrian firms are strong in high technology and innovation, while HCM City is building a smart city and strengthening renovation. Thus, many partnership opportunities between the two sides exist, he said.
The setting up of the Trade Office of the Austrian Embassy in HCM City will enable both sides to increase information sharing and foster collaboration in implementing investment projects, he added.
Dietmar Schwank, Austrian Trade Councilor in Việt Nam who manages the office, showed his belief in HCM City's growth in the future.
He pledged that the office will carry out various Việt Nam-Austria trade promotion and business connection activities, while promoting business opportunities in HCM City to the business community of Austria, thus improving two-way trade. — VNS