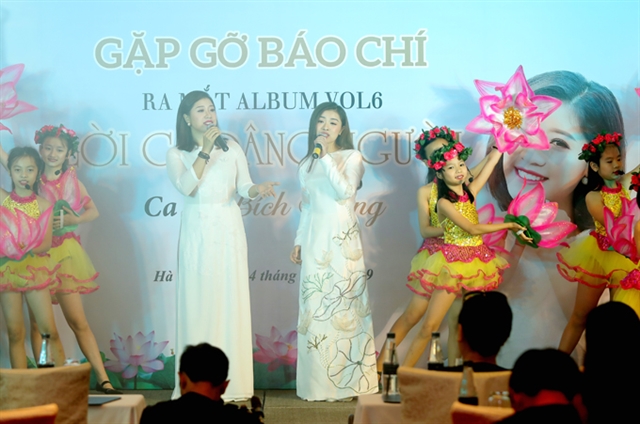 Singers Bích Hồng (left) and Thu Hằng perform at the launching ceremony of the album. — VNS Photo Minh Thu
HÀ NỘI — A new album including 10 songs about President Hồ Chi Minh was launched on Thursday in Hà Nội to mark the leader's 129th birthday (May 19).
The songs are performed by singer Bích Hồng, who won the People's Choice award of the Sao Mai (Morning Star) national singing contest in 2011. Her sister, singer Thu Hằng, winner of folk category of Sao Mai contest in 2016, and her lecturer Meritorious Artist Quốc Hưng also perform in two songs of the album.
The album features remixed popular songs about Uncle Hồ, originally written by famous composers such as Thuận Yến, Phạm Tuyên and Văn Cao.
Hồng said the music work expresses admiration for Uncle Hồ and aims to inspire other artists to create albums on the subject.
Critic Nguyễn Quang Long remarked that the album is noteworthy because nowadays, few artists produce albums entirely about Uncle Hồ.
"The music of the album is amazing, these revolutional songs are still attractive to audiences thanks to the instrumentation," said Long.
"The songs featured different regions of the country such as the northern mountainous region, the Central Highlands, the central and southern regions. Hồng performs the songs in a good way to transfer the characteristics of each region."
Currently, Hồng works as a professional singer and lecturer at the Việt Nam National Academy of Music. — VNS