HÀ NỘI — A workshop to share experience in nutrition labels was held in Hà Nội on Friday.
The workshop, organised by the Preventive Medicine Department under the Ministry of Health, focused on solutions to build a healthy food environment, including nutritional labels that specify nutritional ingredients, food classification systems to identify healthy foods and regulations on limiting marketing of unhealthy foods.
Health experts and representatives from the Ministry of Health, Institute of Nutrition, HCM City Institute of Public Health and Hà Nội Medical University discussed proper nutrition, food consumption, salt-sugar intake as well as rational use of fat in daily meals.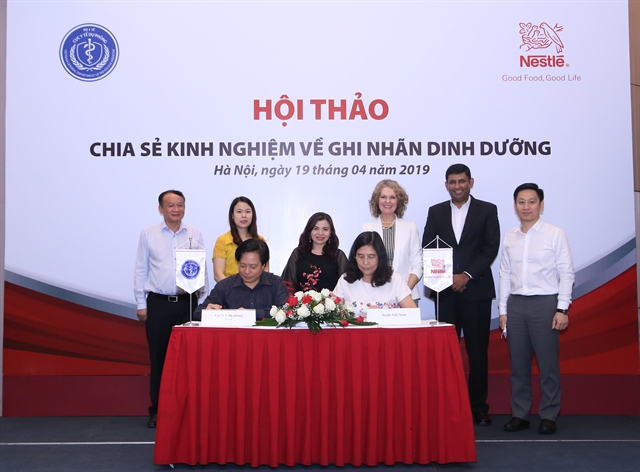 Nestlé Vietnam signs a memorandum of understanding with the Preventive Medicine Department to improve nutrition knowledge for Hanoians.– Photo Nestlé Vietnam
Participants at the workshop agreed that State agencies and food production enterprises had to work together to improve national nutrition.
Trương Đình Bắc, Deputy Director of the Preventive Medicine Department said in Việt Nam, policies and regulations related to healthy food environment were available but need to be completed.
The National Health Programme has called for an increase in inter-ministerial co-ordination and international co-operation, especially with enterprises, to improve nutrition.
At the workshop, Nestlé Vietnam signed a memorandum of understanding with the Preventive Medicine Department in communication co-operation to improve citizen's nutrition knowledge. — VNS