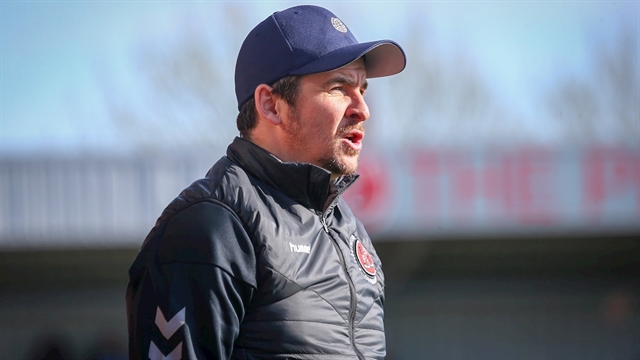 IF THE CAP FITS: Joey Barton has found himself in more hot water. Photo Fleetwood Town FC
Paul Kennedy
Joey Barton is a complex character.
He is, or rather was, a talented footballer, outspoken, opinionated, controversial, and at times incredibly stupid.
On the pitch he carved out quite a decent career. Between 2002 and 2011 he made more than 200 appearances for Manchester City and Newcastle United, and he's also had a dabble on the continent, playing 25 times for Marseille in France.
While his international career isn't really anything to write home about having only represented his country on one occasion, for a kid who grew up in Huyton, a tough, working class area of Liverpool, it is fair to say Joey has done well for himself.
Or is it?
Off the pitch, Barton's behaviour has been nothing short of disgraceful.
Twice he has been convicted of violence charges, one of which saw him jailed for six months for common assault and affray. He has been charged with violent conduct three times by the Football Association and was banned from playing for 18 months after admitting an FA charge in relation to gambling.
In an attempt to show the world he's more of a thinker than a thug, he appeared as a panelist on the current affairs Question Time in the UK. It didn't end well after he compared the political party UKIP to one of 'four ugly girls in a nightclub'.
He also regularly Tweets comments on subjects ranging from Friedrich Nietzsche and George Orwell to Isambard Kingdom Brunel and Morrissey, former lead singer of the band The Smiths.
After hanging up his football boots, the 36-year-old moved into management, taking over the reins at Fleetwood Town in League One.
Last Saturday, his team was hammered by Barnsley 4-2. Then after the match, Barton allegedly hammered rival manager Daniel Stendel in the tunnel.
Stendel reportedly needed emergency dental treatment and was left poll-axed on the floor after the incident.
If what was reported is true, and there's still likelihood of a police investigation, it does beg the question, when will Joey grow up?
He seems to suffer from SMS – small man syndrome. At 175 centimetres in height, Joey isn't exactly towering above rivals, yet it seems he's always up for a fight.
The red mist descends over Barton quicker than the smog falls over Hà Nội on a particularly polluted day.
Remember Jamie Tandy? No, you probably don't. He was a Manchester City youth player who had a cigar stubbed out on him by Barton at a Christmas party.
There was also a 15-year-old Everton fan Barton had a ruck with during a pre-season tour of Thailand with City.
While playing in France he was accused of homophobia after calling PSG's Thiago Silva an "overweight ladyboy" and he has been sent off nine times in his professional career.
But despite all of the above, there's something niggling away at me I'm struggling to suppress and that is, and I can't believe I'm actually writing this, I like Joey Barton.
I'm not for one minute condoning anything he's ever done, only a hard core sado machinist could take pleasure in Barton's off-the-pitch antics.
I just think he's a character, a one-off, and as the world gets more and more, wrapped in cotton wool, there are not going to be anymore Joey Bartons around soon.
He reminds me I guess of the court jester. A joker who sometimes goes a little too far. He's like an aggressive adolescent Jack Russell terrier that needs to be kept on a tight leash.
Don't get more wrong, he can't go around punching people when he doesn't get his way, and surely wherever Manchester City held their Christmas party in 2004, had ashtrays available, he didn't need to use the cheek of a youth player to put out his stogie.
I guess it all boils down to a Liverpool thing. Being from the same city, and in fact going to school in the same area where Barton grew up, kind of points me towards being a little on the defensive side when it comes to Joey even though I know I shouldn't be.
I hope whatever happens over the latest alleged wrongdoing is just and fair and it will be the last time Joey gets himself in trouble.
I hope he learns his lesson but something tells me he won't. — VNS