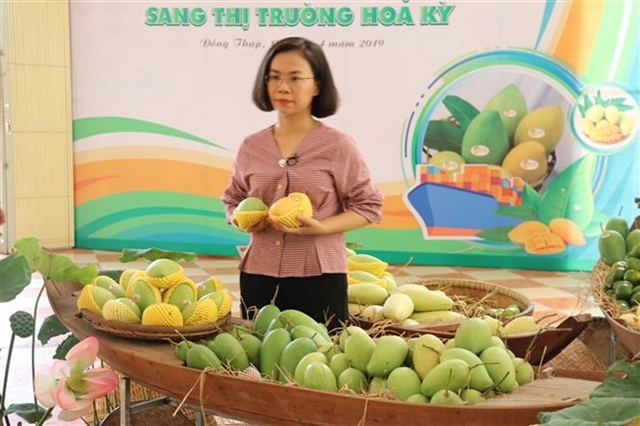 HÀ NỘI — The Chánh Thu Fruits Import Export Co on Thursday exported eight tonnes of Hòa Lộc mangoes to the US, making it the first Vietnamese enterprise to ship mangoes to the strict market.
All exported mangoes were harvested at the Mỹ Xương Mango Co-operative in the southern province of Đồng Tháp's Cao Lãnh District, according to the company's director Nguyễn Thị Hồng Thu.
Mangoes were carefully selected and met VietGAP standards, Thu said at a ceremony in the province on the same day.
The mangoes were provided with a code from the Vietnamese Plant Protection Department and the US Department of Agriculture's Animal and Plant Health Inspection Service (APHIS) for management and traceability.
All pre-export shipments must be irradiated, quarantined and granted phytosanitary certificates by the APHIS, she said.
Đồng Tháp has more than 9,650ha of mango varieties with annual output of 127,000 tonnes, leading other provinces in the Mekong Delta region, the provincial People's Committee vice chairman Nguyễn Thanh Hùng said at the event.
Two specialty mango varieties, Cát Chu and Hòa Lộc, were granted certificates of intellectual rights by the National Office of Intellectual Property of Việt Nam, he said.
The fruit is one of Đồng Tháp's key products in its agriculture restructuring programme. The province's mangoes, which are mostly exported to China, have also been exported to South Korea, Japan and New Zealand.
The province, which has set up two co-operatives and 29 co-operative teams that grow mango, has contracted with companies to guarantee outlets for their mangoes. VNS