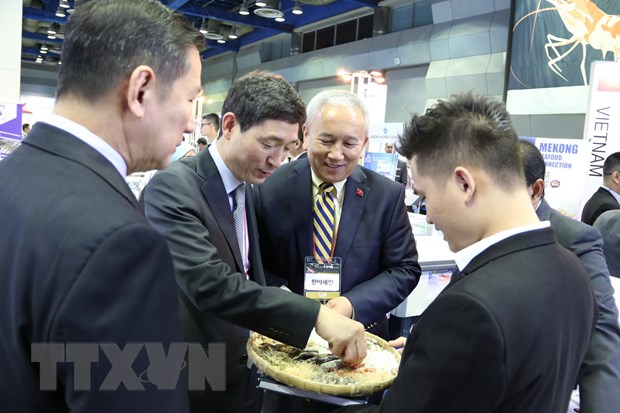 Representatives from several Korean companies test Vietnamese seafood products at the Seoul International Seafood Show. Photo VNA
SEOUL — Seafood products from Việt Nam have received attention from foreign customers at the 2019 Seoul International Seafood Show, which opened in South Korea's capital city on Monday.
Among the 34 ASEAN businesses participating in the event are 10 Vietnamese companies, including Thanh Hà Co, Thông Thuận Co, Mekong Seafood Connection Co, Minh Đăng Co and Nghi Son Aquatic Product Import Export Co.
The enterprises described the three-day show as a chance to advertise Việt Nam's seafood products and seek new partners, especially Korean importers, towards gaining a bigger share of this lucrative market. The event will also help the firms increase their use of advanced technologies in aquaculture and seafood processing, they said.
Thanh Hà Co Director Nguyễn Thị Nguyệt Hà said her firm plans to develop many more high-quality products to introduce Vietnamese cuisine to the world. She said some of its products are on sale in South Korea through the supermarket chain E-mart.
Director of the Thông Thuận Co Trương Hữu Thông said his company decided to join the event to penetrate the South Korean market.
According to Thông, Việt Nam has many high-quality products that meet South Korea's strict standards thanks to its strengths in aquaculture and processing.
The director said his firm will attempt to sell its products in the market in the near future.
Việt Nam has become the fourth largest exporter of seafood in the world, with its products available in more than 170 countries and territories, according to the Directorate of Fisheries under the Ministry of Agriculture and Rural Development.
The sector strives to raise its export value to US$10 billion this year, up more than 11 per cent year on year. — VNS