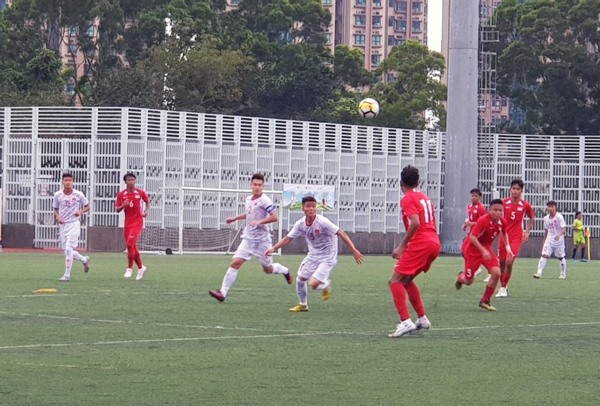 Việt Nam (in white) beat Singapore 1-0 in the Hong Kong's international U18 event. — Photo laodong.vn
HÀ NỘI — Việt Nam beat Singapore 1-0 in the first match of a four-side International Youth (U18) Football Tournament in Hong Kong on Friday.
The Vietnamese team played an attacking style from the beginning and established control but failed to score during the first half.
Coach Hoàng Anh Tuấn made five changes after the break but the substitutes also could not bypass Singapore's defence.
Moments from the end of the match, Xuân Tạo was knocked down in the box and Việt Nam were given a penalty.
Captain Bùi Tiến Sinh stepped up to the spot and scored the winner.
In the other match, Myanmar defeated the hosts 2-0 to top the ranking temporarily.
In the next set of matches today, Việt Nam will meet Myanmar while Singapore will face Hong Kong at the Po Kong Village Road Park Pitch. — VNS