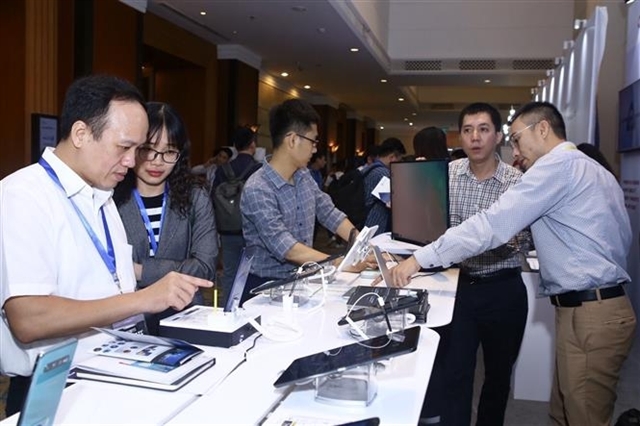 Representatives of businesses visit an exhibition on technological products as part of the conference on cybersecurity. — VNA/VNS Photo Minh Quyết
HÀ NỘI — Việt Nam will declare a national digital strategy this year to set up a digital economy and society, said Minister of Information and Communications Nguyễn Mạnh Hùng at a cybersecurity conference on Wednesday in Hà Nội.
Hùng said cybersecurity was a prerequisite for a successful national transition to a digital society.
It created a safe environment for the Government, enterprises and people to use digital technology, he said.
Việt Nam wanted to create a safe space for digital transactions, he said, and to develop world-class cyber security enterprises.
"Our prosperity depends on the internet, but the internet is not safe," said Hùng. "Making the internet safer means making our country more prosperous."
Hùng requested the establishment of a cybersecurity market this year, and said every information technology investment project must take online security measures.
Concerned organisations must ensure cyber security in Governmental offices and important national infrastructure, he said. Each Governmental organisation must have at least one enterprise ensuring cybersecurity to avoid the theft of information.
Also at the conference, the Ministry of Information and Communications (MIC) for the first time announced cybersecurity assessments of State organisations for last year.
The assessment will now be conducted annually and gradually widened to include all organisations and enterprises.
Hùng also said Prime Minister Nguyễn Xuân Phúc assigned the MIC to compile instructions about guaranteeing cybersecurity, which emphasises the role of leaders.
Under the instructions, leaders bear responsibility for cybersecurity in their organisations. Assessment and risk management must be done regularly.
Also yesterday, under the sponsorship of the MIC, the Authority of Information Security and the Vietnam Information Security Association, together with its partners, launched an alliance to handle malicious code and prevent network attacks.
Hùng said the MIC would be ready to support and give guidance to other organisations and enterprises to guarantee cybersecurity. The MIC will also create good conditions to urge co-operation and the development of associations in the field. — VNS