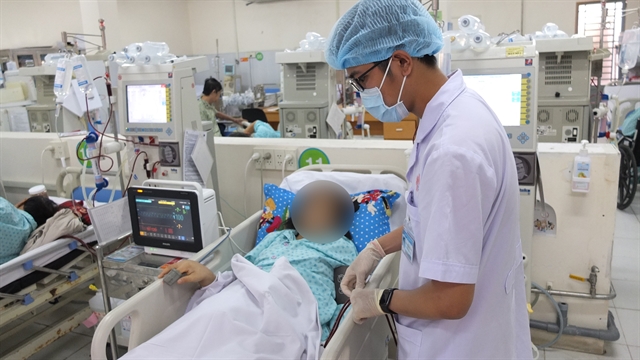 A 22-year-old woman who is victim of dubious weight loss product is being treated in hospital. Photo courtesy of Bình Dân Hospital
HCM City – Doctors are warning people to stay away from weight loss drugs promoted on social media websites.
Earlier this week, HCM City's Bình Dân Hospital reported a case of a woman who became seriously ill using weight loss products.
The patient, a 22-year-old woman identified as T.T.M.N, is from the neighbouring province of Bình Dương.
After a month using the drugs, she developed kidney failure and was hospitalised for dialysis, said doctor Lê Thị Đan Thùy.
"She was hospitalised with a condition of kidney and liver failure, swollen limbs, gastrointestinal hemorrhage, and fluid in her lungs", said Thùy.
Thanks to immediate first-aid and treatment, the young woman lived through the ordeal but has suffered serious kidney failure.
"Now she has to have dialysis for the rest of her life", the doctor said.
Talking with the hospital's doctors, N said: "I worked as cleaner in an office building. I always felt into inferiority complex about my chubby body.
"I am 1.5m tall but 60kg.
"So, I saved money to buy the weight loss drug hoping it would make me more confident", N said.
She was sold the product by one of her work colleagues.
"I was just told it was a herbal extract which helped losing weight and improving my skin", she said.
She spent VNĐ500,000 (US$22) for 250 pills for one month.
At first she urinated often and lost 6kg. Although she felt tired she struggled to sleep and her face and limbs swelled.
Previously, the Bình Dân Hospital received two patients with similar symptoms due to using similar products.
Since earlier this month, there have been many cases of kidney failure due to weight loss pills, according to doctor Thùy.
Many patients who were treated quickly returned to a normal life, the doctor said.
But N and the other two people suffered a loss of kidney functions forever, the doctor added.
At present, weight loss products are advertised rampantly, especially on social networks.
Pills, tablets, powder or teas are all available.
For many women, being overweight is always a nightmare, especially after giving birth.
Many weight loss products claim people can lose weight without the need for exercise.
According to doctors, a general feature of weight loss products was diuretic and dehydration which made users lose weight fast.
But some products bring high risks of high blood pressure, strokes, and kidney failure.
Banned substances, false ads
Nguyễn Thanh Phong, head of Food Safety Department told Thanh Niên (Young People) Newspaper that the agency had discovered many food supplement products, including weight loss ones, containing sibutramine – a banned substance.
In March, the department was warned by Singapore's Health Sciences Authority (HAS) not to use products of Hickel and Solomon Island – Soloco Traditional Candy which were marketed online, Phong said.
"It was because the HAS discovered the two products contained tadalafil substance with content 30 times higher than permitted level", he said.
"Using the substance with high levels is very dangerous because it might cause high risks of heart attack, stroke, and hearing and sight loss", the official said.
According to the official, through inspections, the Food Safety Department and agencies have handled many cases but the situation was still very complicated.
"Many advertisements are completely untrue, especially products relating to health protection, beauty and weight loss", Phong said.
Many weight loss products were advertised as herbal but the test found that it contained banned substances.
Last month, herbal weight loss Vy and Tea product was withdrawn from circulation because of the banned substances which cause heart attacks and cancer.
"Recently, I was introduced to use a weight loss product with commitment of losing weight in three to five weeks," Phong said.
"Notably, the product was banned from circulation since last year but the seller insisted her product had all licences," he said. – VNS