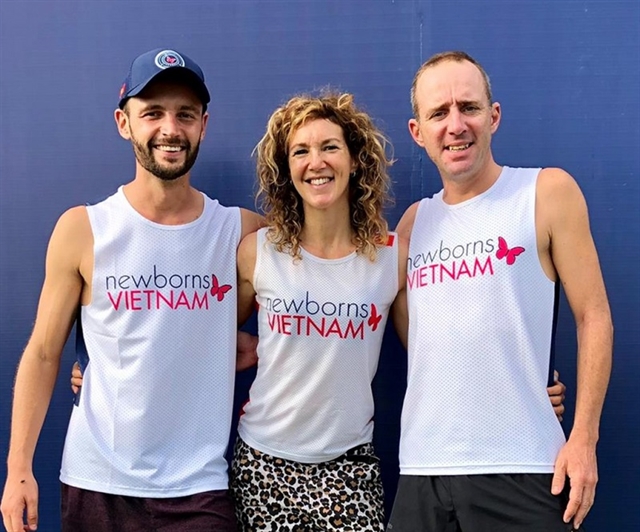 Marieke Dekkers (middle), from Holland, and Englishmen Grant Bowdrey and Rob West completed their epic 300km relay in the Red River Run on Monday. — Photo courtesy of orgnasing board.
Marathon
HÀ NỘI — Three intrepid runners set out on the Red River Run, an epic 300km relay from the Hà Nội Obstetrics & Gynecology Hospital all the way to Lào Cai, deep in the mountainous north of Việt Nam on Monday.
Following the course of the Red River, the runners attempted to complete the distance in 36 hours, running relay-style in shifts of one hour on, two hours off. By the end of the run each athlete covered 100km, a distance they've all been preparing for in the months leading up to the event in races in Việt Nam and Cambodia.
The three runners – Marieke Dekkers, from Holland, and Englishmen Grant Bowdrey and Rob West – are all experienced ultra-distance runners who have competed individually in races around the world. But this was the first time they had run together as a team.
The team tried to complete the run in 36 hours as 36 hours is the most critical period in life for a newborn – the time when nurses and doctors can have the greatest impact on securing life – so the runners wanted this time period to be upper most in their targets for the challenge.
"Our motivation wasn't to run for a finisher's medal or a personal best time for ourselves but to share the challenge of running as a team for others. By running the 300km from Hà Nội Obstetrics & Gynecology Hospital to Lào Cai we covered the same distance some newborns are transported for critical healthcare. It's a long, slow journey, where treatment and time are absolutely vital of course, so we're delighted to be doing something that will improve transportation for newborns and help give them the start in life they deserve," said Bowdrey.
Funds raised from the run will be used to supply essential equipment to the hospitals that the runners were running between – Hà Nội Obstetrics & Gynecology Hospital and Lào Cai Obstetrics and Pediatrics Hospital. Additionally, hospitals in Hà Nội and the north will benefit from increased training programmes.
Helping to see Marieke, Grant and Rob off were 500 doctors and nurses who put on their running shoes for the launch of the Red River Run on Sunday with a 3km fun run around Chùa Láng Street. — VNS